---
Blue Groom Wedding Suit Ideas 2019
If you're looking for inspiration when it comes to choosing a blue suit for your wedding, then you've come to the right place.
A shade of blue is a timeless choice for a wedding, particularly with black suits (and bland suits!) becoming less and less popular. However, just knowing that you want a blue suit isn't enough - although it narrows your choices down, it still leaves you with so many options in terms of style, shade, material, fit and more.
Here at Master Debonair, we stock more than 20 different styles and shades of blue suits - many of which are popular choices for grooms and groomsmen at weddings throughout the year. But to help you choose the perfect blue suit for your wedding, we've pulled some of our stylist's favourites so that you can get a much clearer idea of what you're looking for.
Remember, if this list leaves you feeling inspired, you can book a wedding consultation and visit either our North East store, London store or dedicated private showroom (complete with a free and fully-stocked bar!).
 
---
---
CAVANI KAISER BLUE CHECK TWEED STYLE SUIT
A brand new suit to our collection, the Cavani Kaiser Blue Check Tweed-Style Suit was made to stand out. Tailored to fit and with a contrast collar it's a suit that gives your look something a bit different - a style that stands out as looking special, which is exactly what you want on your wedding day.
---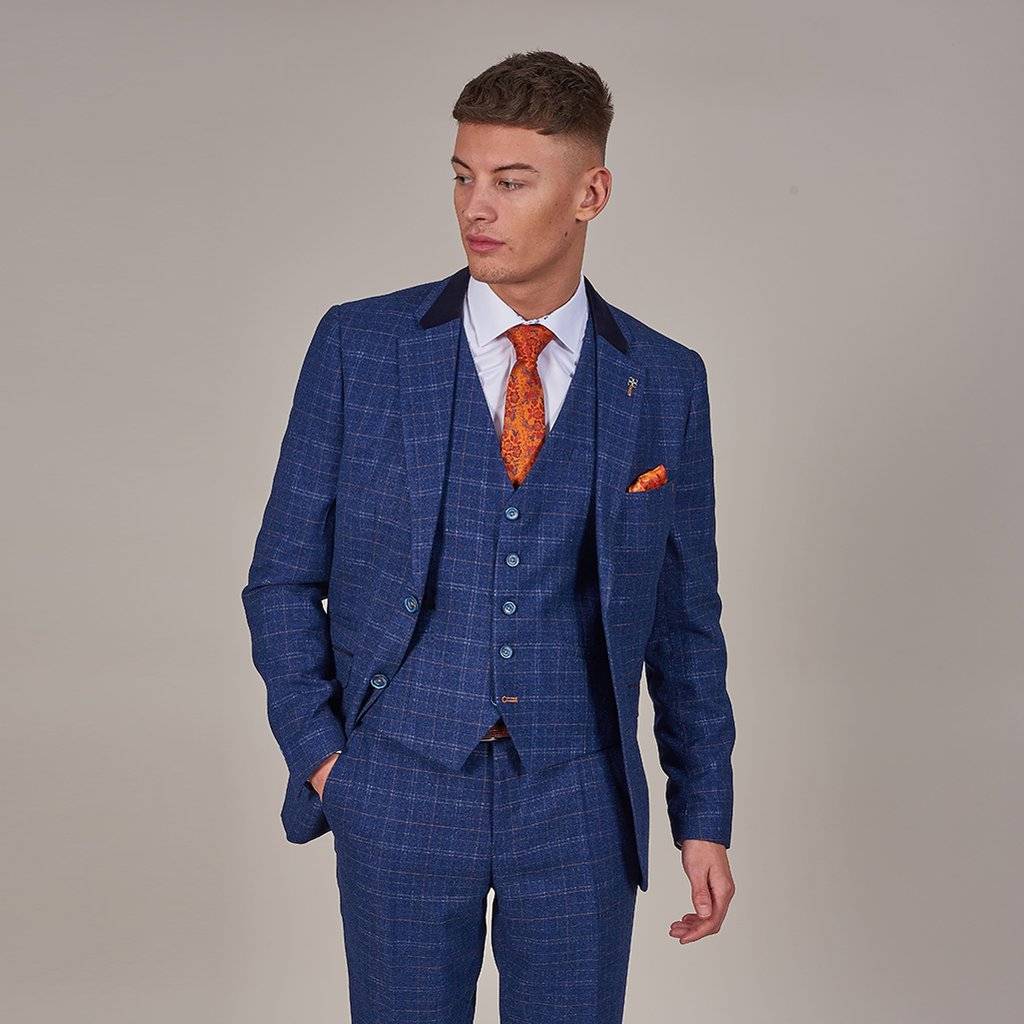 ---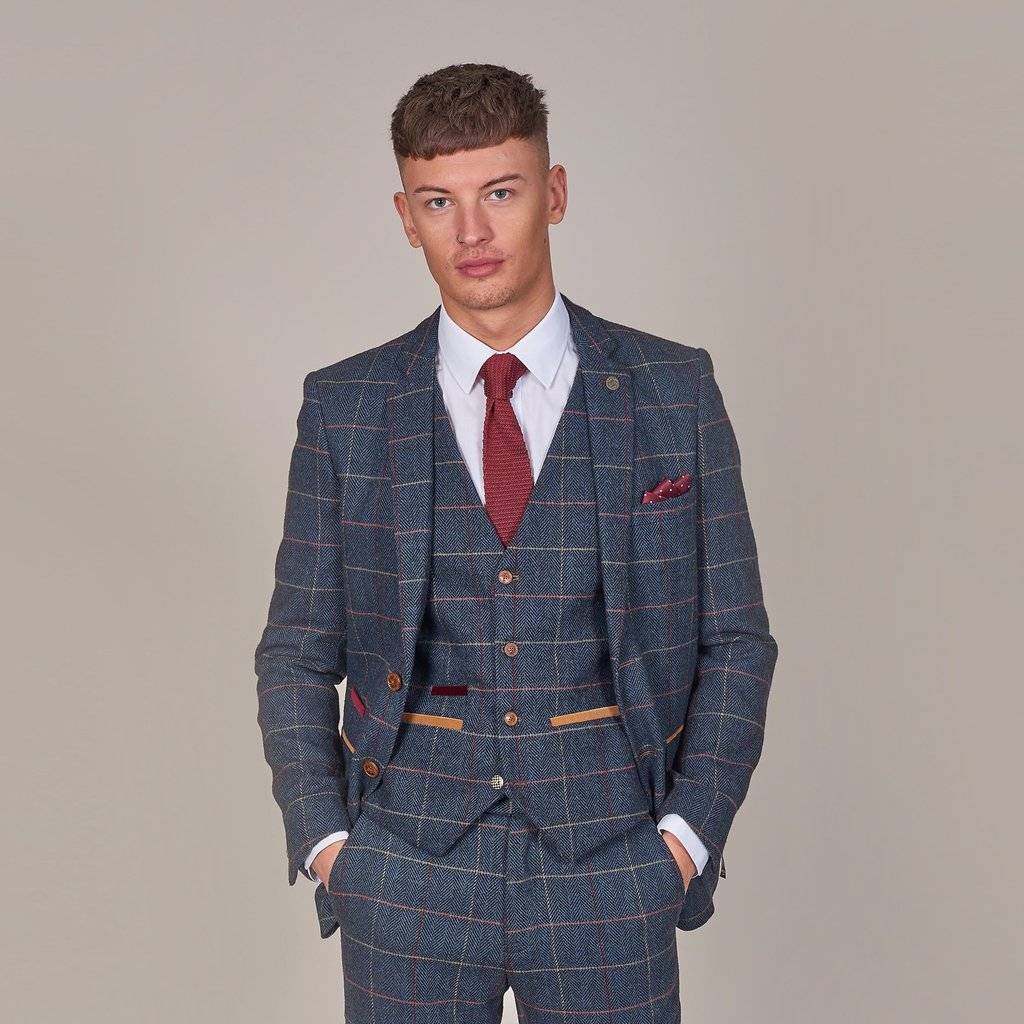 ---
MARC DARCY ETON NAVY CHECK TWEED STYLE 3 PIECE SUIT
If you're having a wedding in a country setting, stately home or converted barn, then this is the perfect blue wedding suit. The check detail, carefully thought-out contrasting mini-welt pockets and pocket flaps ensure this look is both modern and sophisticated. It is certainly a traditionally British piece and is sure to stand out from suits worn by guests. This high-quality suit comes in a tailored fit and with contrasting details to the flap and mini welt pockets.
---
---
---
HERBIE FROGG FRENCH NAVY 3 PIECE SUIT
This Herbie Frogg French Navy 3 Piece Suit is a shade of royal blue that simply exudes luxury and class. The tailored fit, two-button notched lapel jacket and five-button waistcoat both feature pockets and are fully lined with a beautiful polkadot print. It's an amazing choice for a wedding because it truly is a standout piece and the lighter fabric makes it perfect for weddings in all seasons.
---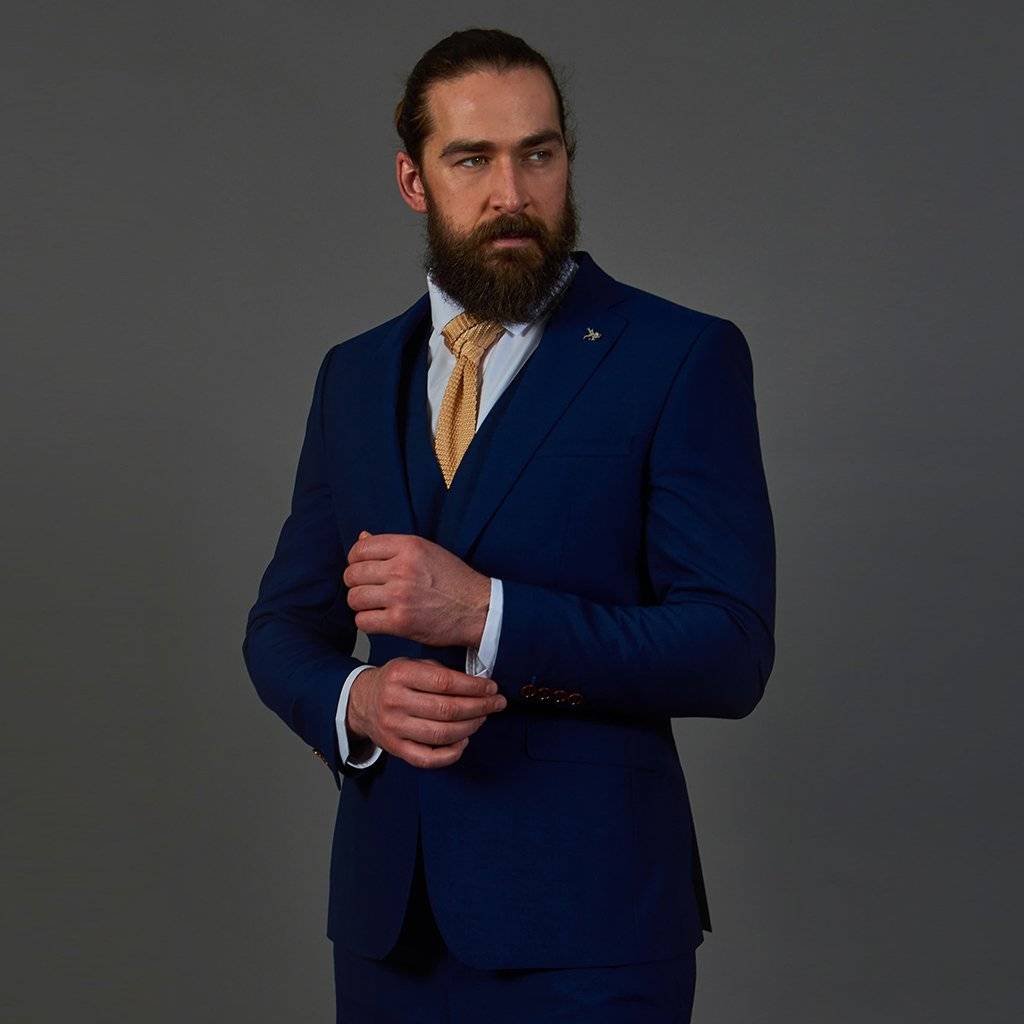 ---
---
FRATELLI PLAIN SKY BLUE SUIT
A sky blue or light blue suit is perfect for any spring or summer wedding. This Fratelli sky blue suit can complement your wedding scheme and setting as it is versatile in terms of shirts and coloured accessories that can perfectly accompany it. It features a single-breasted two-button blazer, five-button waistcoat, flat front trousers and comes with a violin lapel pin. Contrast pocket detail and flaps add a level of detail that makes this suit something special.
---
---
---
SKOPES NAVY PINSTRIPE SUIT
A suit with a fine pinstripe can transform a plain-looking suit that will blend in with your guests into a gentry look. This look is perfect for any wedding in a hall, country house, stately home or modern setting. Accessories are also key to completing this look, but the classic navy can complement almost any colour scheme. This is sure to be a trend in the 2019/2020 wedding season and beyond.
---
---
To browse our full range of blue wedding suit styles, visit our dedicated category page. Or, book your consultation with one of our professional wedding stylists. Our private showroom is fully kitted out including a fully-stocked bar - so why not make a day of it for you and your fellow groomsmen.
---
---