---
How to choose suits for your groomsmen
Choosing suits for your groomsmen can be difficult, with conflicting opinions and opposing style tendencies, coming to a mutual decision is tough. Our professional stylists at Master Debonair, explain how to choose a suit for your groomsmen that will keep everyone feeling happy and looking sharp.
---
---
do they need to have matching suits?
The answer to this question isn't always yes. Although there seems to be a set standard that the entire wedding party must wear the same suit, this doesn't have to be the case if you're not into it. Our advice would be to keep a set colour, cloth and pattern if you opt for a check or striped suit.
When people look through your wedding photos, you want it to show that this is a wedding party, not just a group of friends in formal dress. Provide your groomsmen with a swatch of the colour you'd like them to stick to if you're giving them free-reign. At Master Debonair, we like to guide you to the right choice for your own style, so whether you want matching suits or not, we're happy to help to get you and your groomsmen looking dapper.
---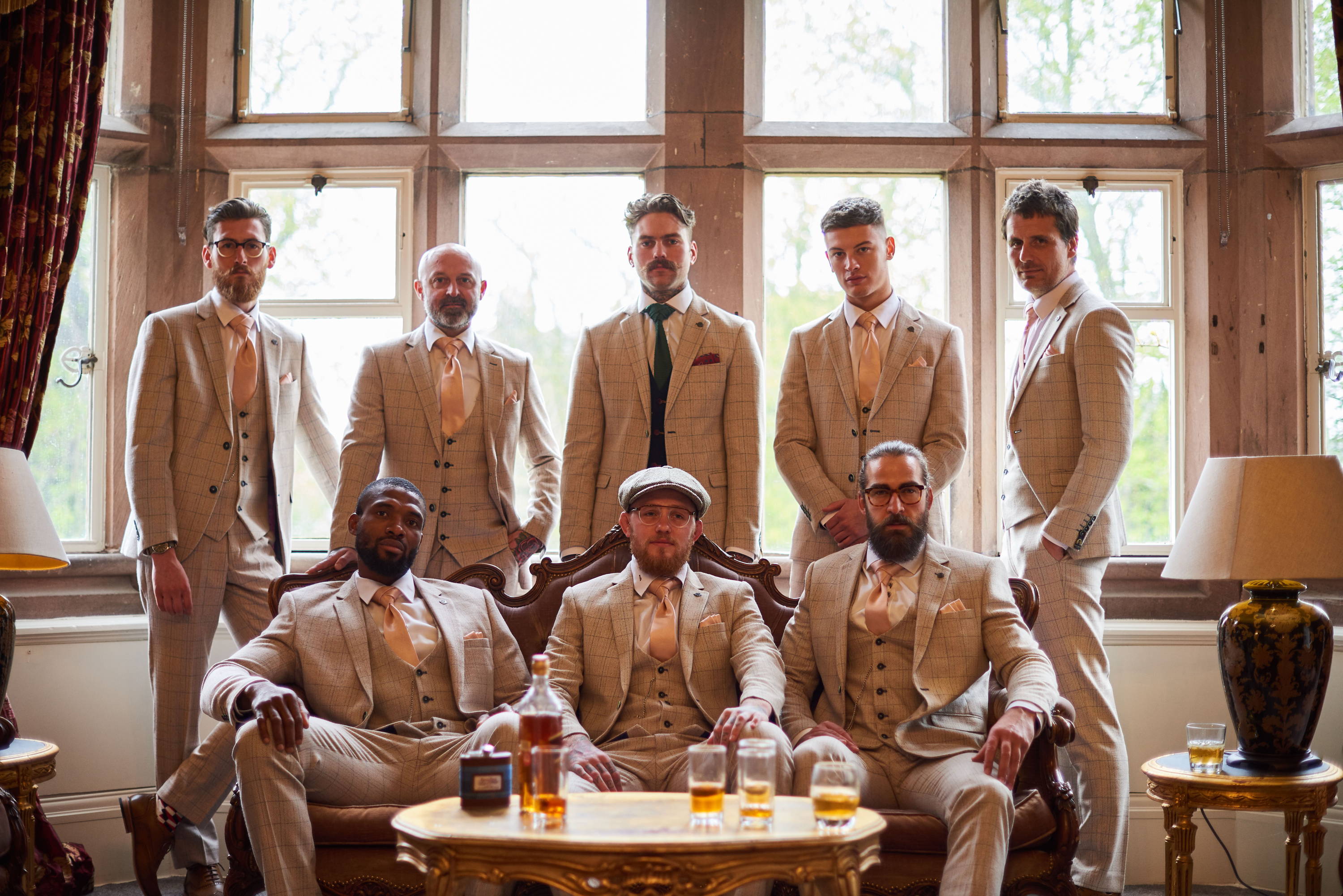 ---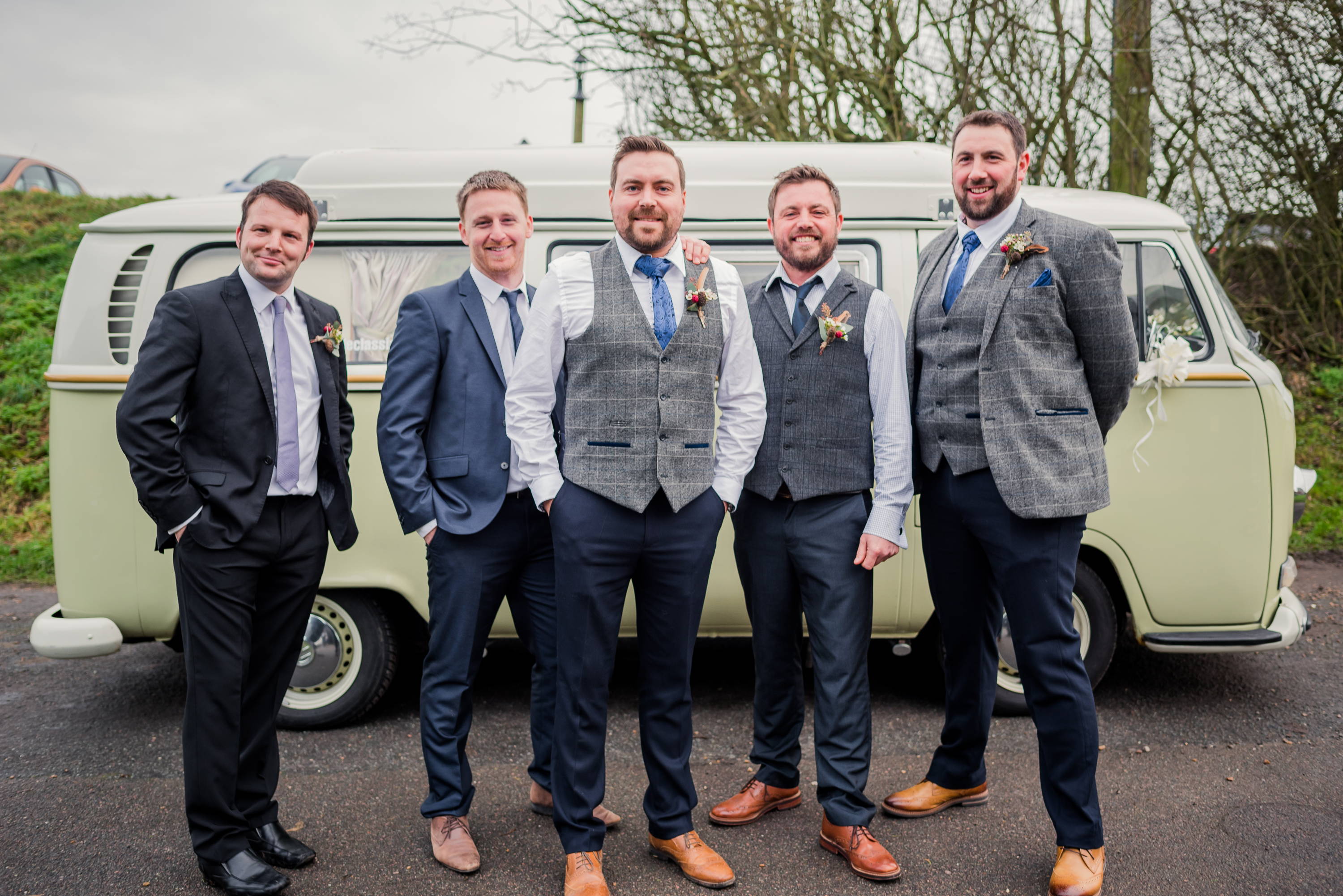 ---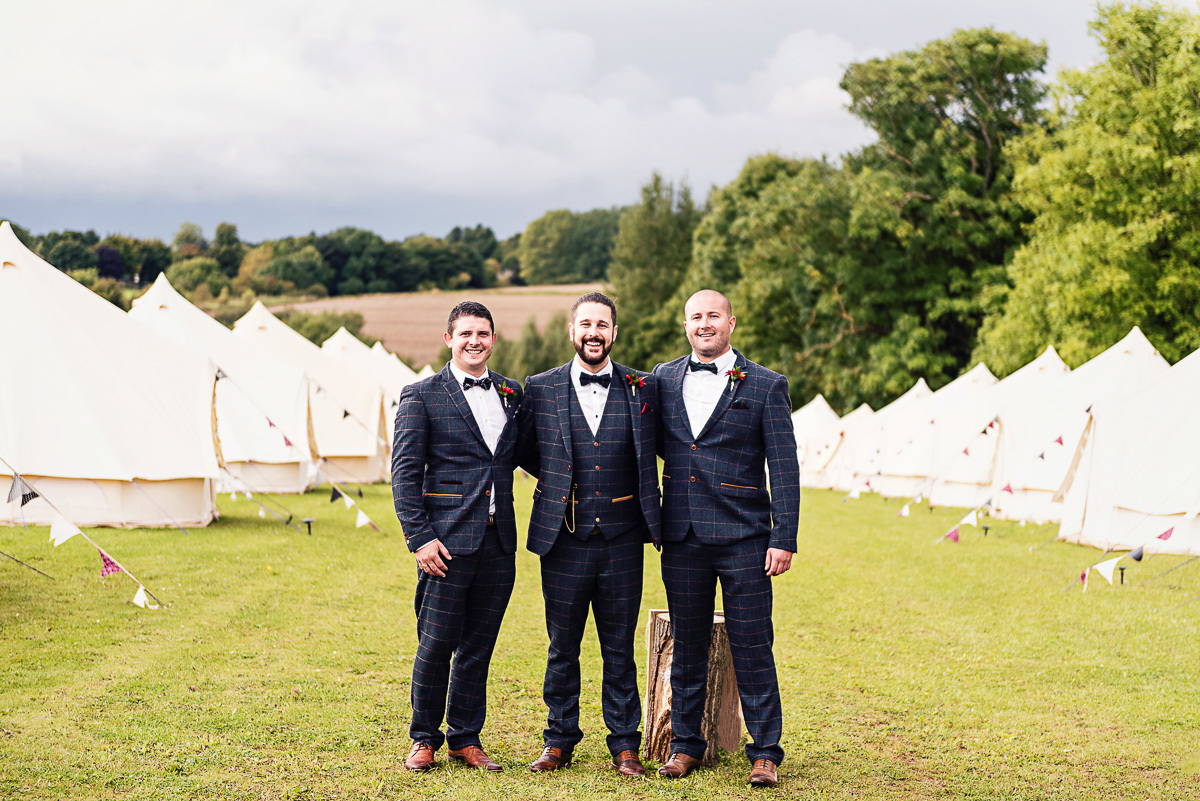 ---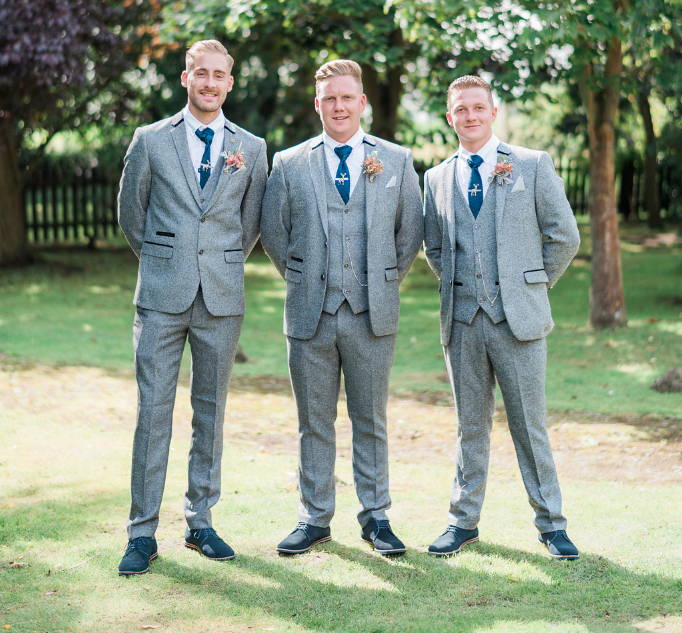 ---
ensure you keep to a set level of formality
Although it's important for the groom to stand out, a clash in formality could lead the whole wedding party to looking a bit mismatched. Super formal dress isn't for everyone, so choose what you feel comfortable with and go from there. The only thing you need to be sure of is that as the groom, you're the best dressed, but don't look out of place.  
Simply choose a dress code with a specific vibe and then ask your groomsmen to adhere to this. By abiding by a set tone, everyone will look like they belong to the same group. If you're not sure of the tone you want to set, look to the overall feeling of your wedding and try to choose suits that will go well with this.
---
---
Pick the cloth and colour
This is undoubtedly the most important element of choosing your groomsmen suits. Once you've picked the colour and the cloth, you have something to work with and can expand the full look with accessories and footwear.
There are so many options to choose from for the cloth of your suit. Whether you want a lighter linen-blend for a summer wedding, a thick wool-blend for a winter or outdoor autumn wedding, or even something traditional like tweed, we can help you to choose which is right for you and your groomsmen.
The colour may depend on the wider theme of the wedding. Will you be matching your accessories to the chosen colours for the wedding decor? Choosing a colour that will complement the general tone of the wedding is important for the overall look of your day and will make for great pictures. Don't worry if you're not sure how to do this, dealing with wedding parties on a daily basis, our professional stylists can ensure you achieve the look you desire.
---
---
choose accessories that complement the suit
Now you have your colour and cloth selected, you can begin to explore accessories. This can be a daunting experience as you may feel overwhelmed with choice. But the good news is, some accessories will be instantly ruled out as they won't go well with the suit.
Picking a colour again narrows down the selection and then you only need to think about patterns and fabrics. As the groom, you should have stand-out accessories. As for the groomsmen, at least one unifying accessory is important, especially if the suits aren't matching.
Ensure each of the groomsmen wear the same tie and pocket square to make it obvious that they belong to the wedding party, which will in-turn make your groomsmen feel like a special part of your day and not just a regular guest.
When choosing footwear, remember black isn't always the best option, you need to be sure that the shoes your groomsmen wear complement the colouring of the suit. This goes for the belt too. Lastly, avoid clashing patterns and colours on the socks. At Master Debonair, we are huge fans of making socks a real statement part of your outfit, but be careful as this can easily be done wrong! Not sure how to style your accessories? Come and talk to us, we'll make sure you and your groomsmen look your best.
---
---
---
offer your groomsmen choices during the selection process
As we dress tons of groom's parties every single year, we understand that it can be so difficult to get everyone to agree on one suit or accessory theme. This is where you have to be bold and take the lead, but don't force someone to wear something that they would feel really uncomfortable in. Give your groomsmen choices, ask them if there is a certain colour or style of accessory they'd like to incorporate, or if there is a certain type of fit that they would prefer the suit to be.

Creating democracy among the groomsmen will make them feel happier with the final product. If you're totally clueless as to what you want for yourself and your groomsmen, we offer a professional styling service for large parties at our purpose-built studio (complete with complimentary bar!) Book your appointment today, we recommend attending the appointment at least six weeks before the wedding day.
---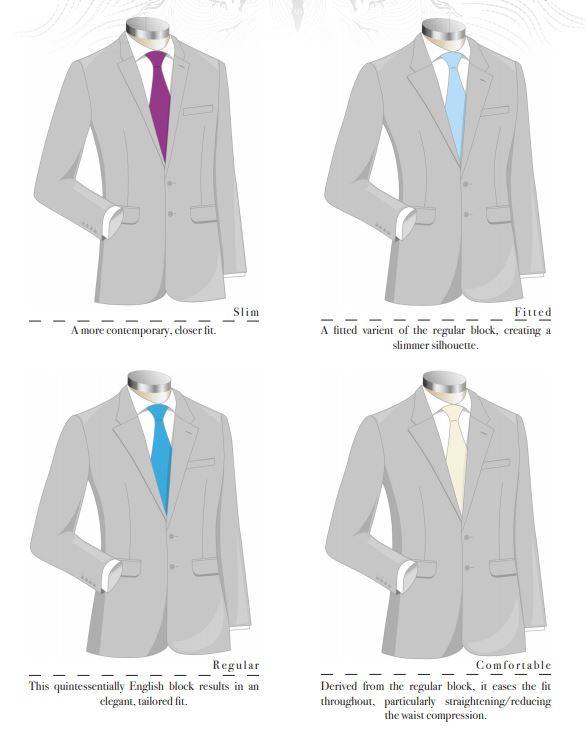 ---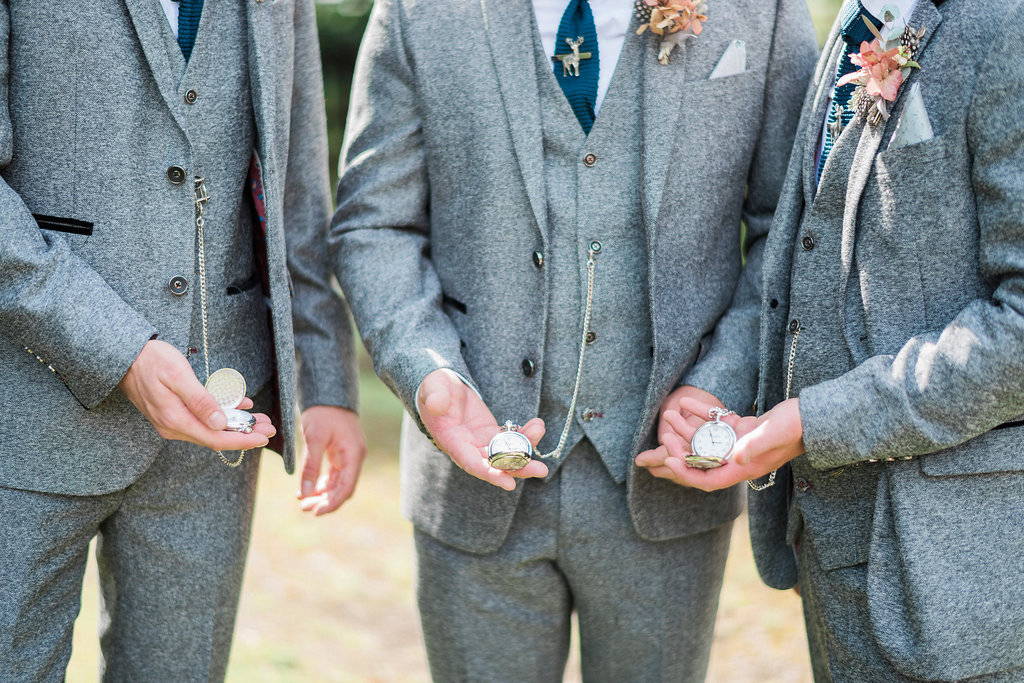 ---
---
You want your groomsmen to look good, but be careful not to take the shine away from yourself. It should be obvious to a stranger looking at your wedding photographs who the groom is. This can be done in many ways, whether you have stand-out accessories, a different colour, cut or fit of suit or bolder colour schemes for your tie, pocket square and lapel pin, the possibilities of detail that you can add to your suit to make it that bit more special are almost endless.
We like mix and matching, so that you are in sync with the wedding party but still stand out as the groom. Wearing alternate colour suit and waistcoats is a unique and stylish way to make a statement at your wedding.
---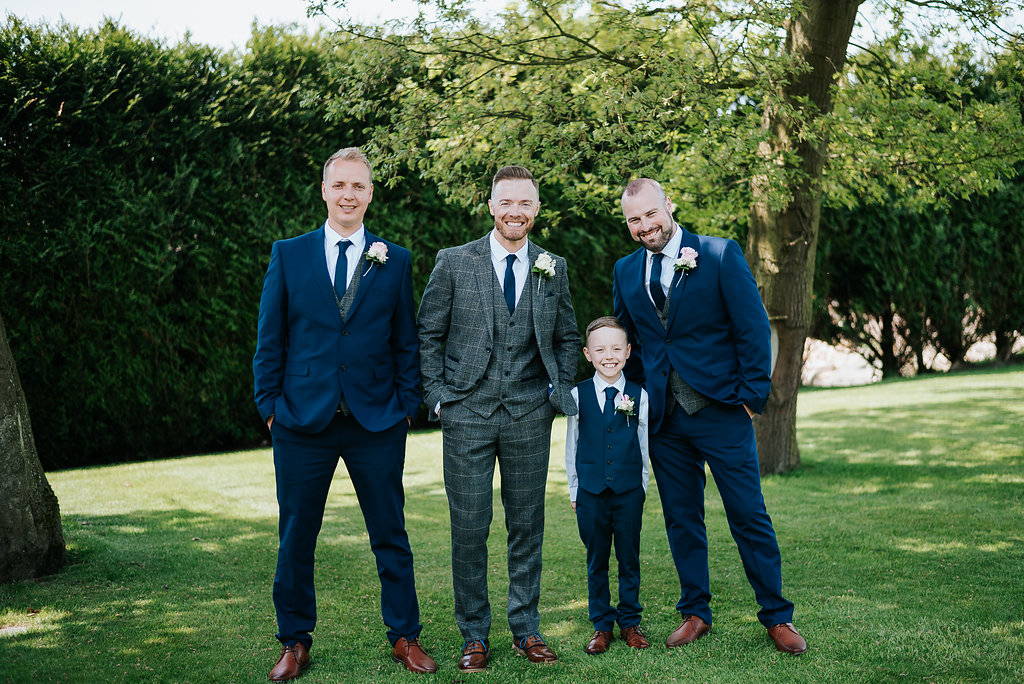 ---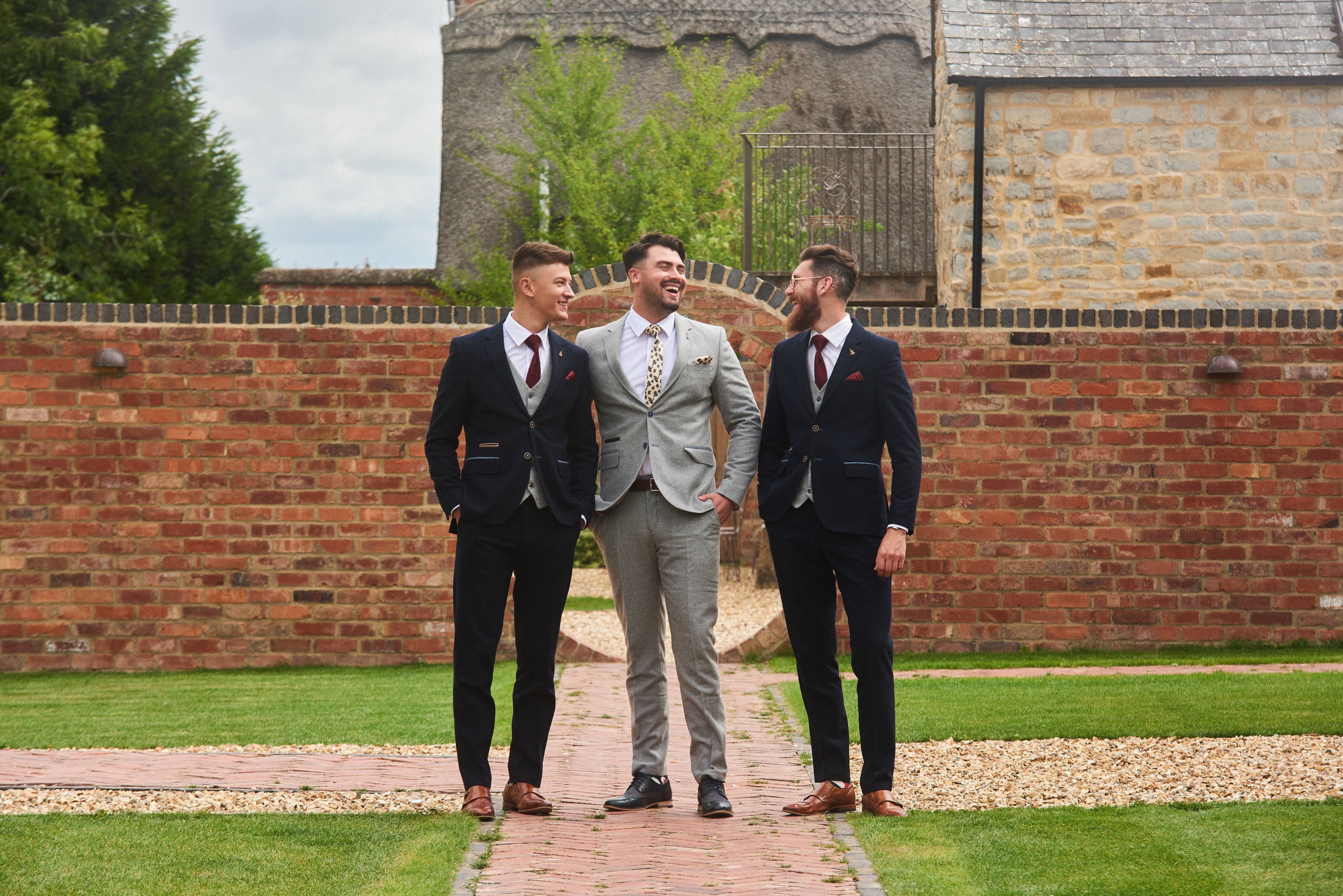 ---
organise your groom's party suit fitting today