---
the menswear guide to ladies day 2018
The Collingwood Insurance Beeswing Ladies Day is taking place on the 28th of July this year at Newcastle Racecourse, and attending a day at the races is no longer just about gambling.
The fashion is almost as important as the horse races themselves. With the annual 'Best Dressed Lady' competition being the highlight of the afternoon, Newcastle Racecourse says "dressing to impress is highly recommended".
It may be Ladies Day, but it's not just about how the females are dressed. Answering all your race day attire questions, we cover everything you need to know about menswear for Ladies Day 2018.
---
What style of suit should you wear to the races - two or three-piece?
This is entirely up to you. The dress code suggests a 'smart-casual' look, so perhaps you may feel more comfortable settling for a two-piece. However, if you want to go all out and really look the business, then a three-piece is essential. Depending on the style and the level of formality you wish to convey, a two or three-piece are both completely acceptable suit options for the races.
---
---
what accessories should you wear to the races?
Should I wear a tie or a bow tie?
Either is an acceptable option for a day at the races, but it depends on the style you want to go for and what would complement your suit best. If you're wearing a classic, plain navy suit then a sharp, bold tie is recommended. However if your suit is tweed or checked, a bow tie is a fun and playful option that will add extra character to your look.
---
---
Do I need a pocket square?
As the event is slightly more relaxed than other traditional racing events, a pocket square isn't absolutely essential. However, adding a pocket square is part of the fun of piecing together your complete look with the right coordinating and contrasting elements. At Master Debonair, we're all about creating the most sophisticated and stand-out looks - so we say, go for it. Match your pocket square to your tie for a classic look, or go for a contrasting pattern to make a distinct statement.
---
---
What other accessories can I add to stand out?
If you really want to make a statement fit for a day at the races, then we suggest adding a timeless piece to your suit that is synonymous with racing fashion - the pocket watch. This can be worn in so many ways and adds a unique, elegant feel to your overall outfit.
Feel free to check out our full accessories range for more ideas, from horse racing cufflinks to moustache tie clips and skull lapel pins, we have plenty of the finer details that really make your suit special.
---
What are the big menswear trends this year?
With the 'smart-casual' dress code in mind, there are so many options to explore and experiment with for your day at the races. The key trends for this year are:
---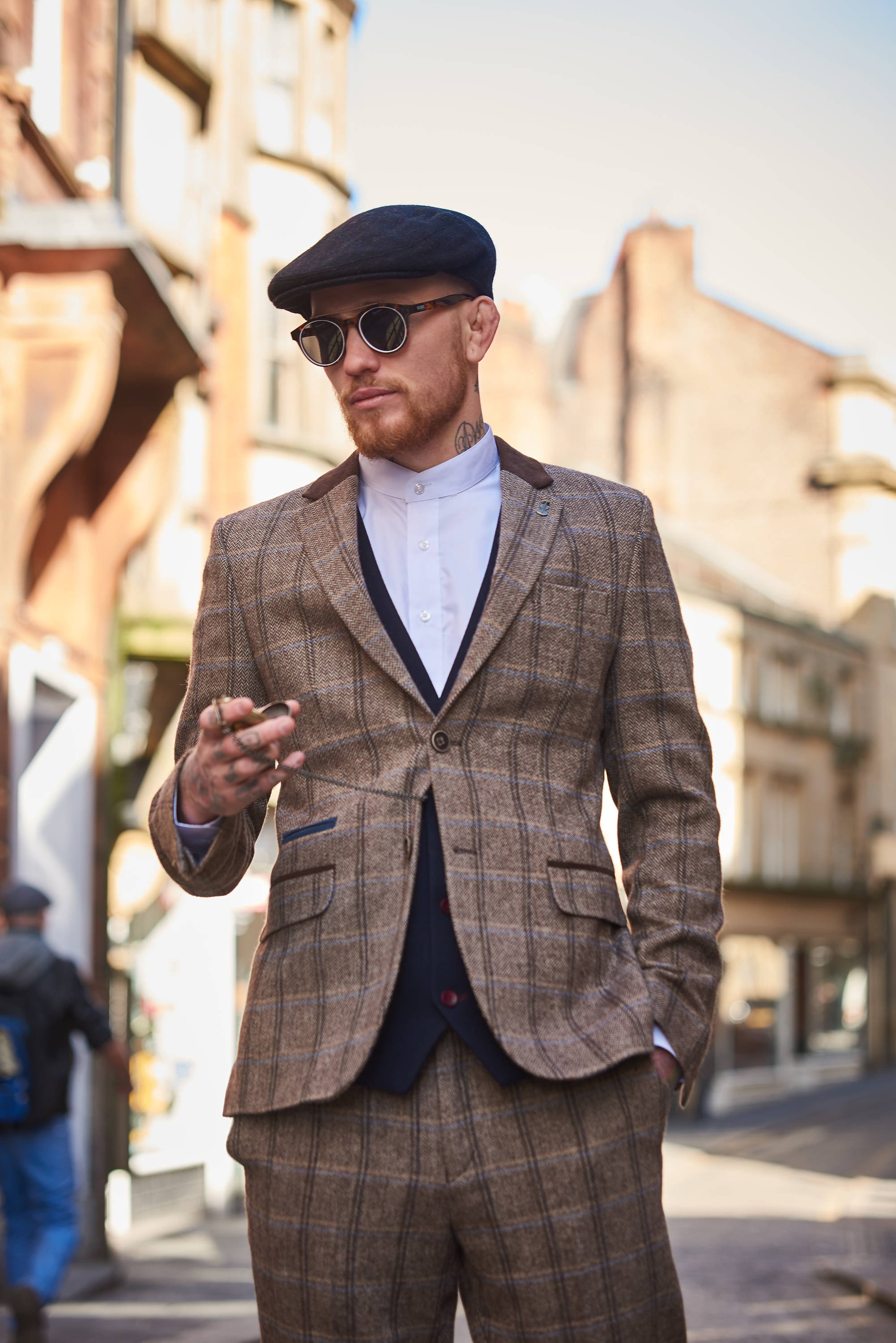 ---
Tweed suits are a traditional choice for the races, being worn for decades to racing events across the UK. Although today, tweed no longer means the typical green colour and square pattern (although we still love this timeless look). Add an edgy, modern feel to your outfit with a unique tweed pattern and colour scheme.
---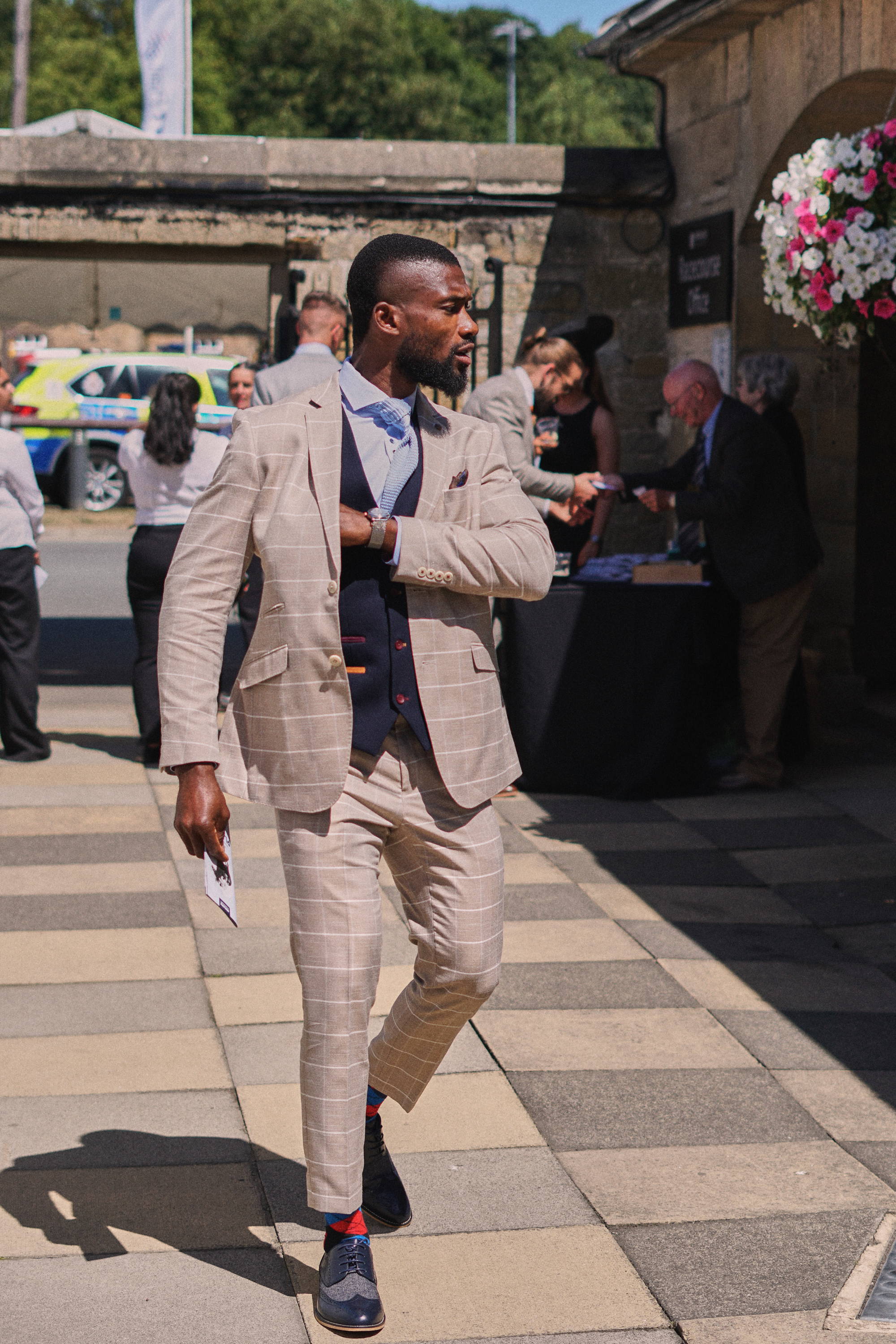 ---
A check pattern keeps the classic elements of the tweed suit, but adds a more contemporary feel. Wear a contrasting waistcoat with a checked suit to make a sophisticated statement.
---
---
---
If you want to go for a more simple or plain suit, then navy or grey should be the colour you go for, for a day at the racecourse. They're both a minimalist choice, without lacking what it takes to ensure you look suave.
---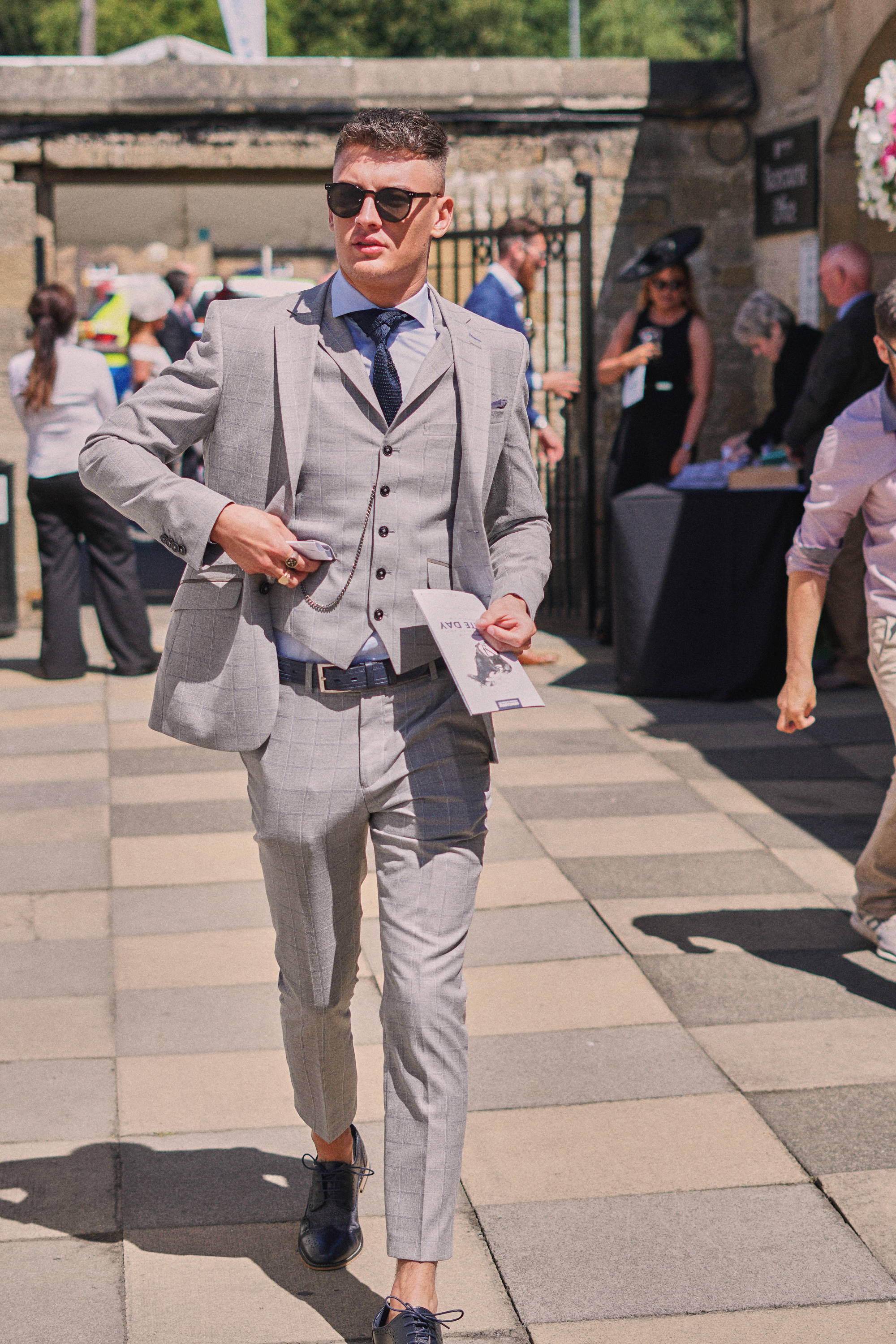 ---
Although we love the look of adding a bright, bold tie to add flair to suit, we're also big fans of this simpler key trend. Using different tones of the same colour when choosing a tie, shirt and waistcoat combination adds graceful detail to the outfit.
---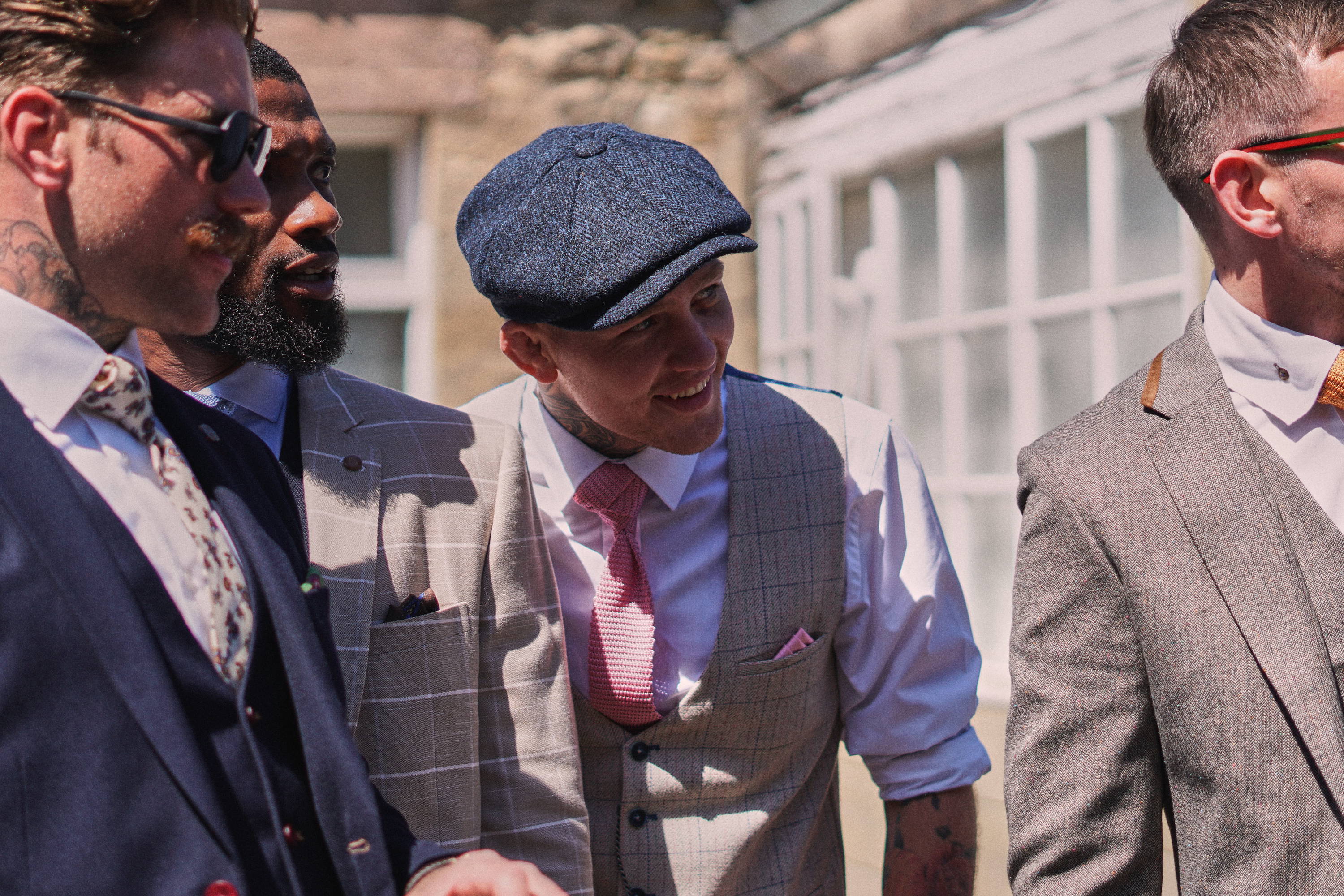 ---
The ultimate race-day accessory - the baker boy flat cap.
---
now you know the dos - but are there any don'ts?
Err on the side of caution and choose to style your outfit more on the smart side than the casual - remember, it's always better to be overdressed than underdressed.
If you wear fancy dress, ensure it is respectable, decent and inoffensive.
Don't overload accessories into your outfit. You don't want to draw too much attention away from your suit and look like you've added lots of extras just for the sake of it. Ensure the accessories you choose set off your suit appropriately.
If you're worried you're going to commit a fashion faux pas, feel free to get in touch with us to book an appointment for some professional styling advice.
---
Is there a strict dress code to follow?
There is a dress code to adhere to, but it isn't as strict as other racing events around the country. In hospitality areas and the Premier Enclosure, the suggested dress is smart-casual. Any sportswear, trainers and fancy dress is not permitted in these areas.
If you're attending the Grandstand, or when One Enclosure is in operation, you may wear fancy dress, however this must be respectable, decent and inoffensive. The dress code does not apply to children under the age of ten. For more information on the Newcastle Racecourse Ladies Day venue etiquette, click here.
We hope you have an amazing day at Newcastle Racecourse Ladies Day 2018. If you need any assistance with your outfit planning, then don't hesitate to get in touch with us.