Men's Suits: Off-The-Peg VS Made to Measure VS Fully Bespoke
Off-The-Peg vs Made to Measure vs Bespoke Suits FAQ's:
What is an "off-the-peg" suit? 
"Off-the-peg" suits are simply suits that you can buy by walking into a store and picking off the rail. They are often mass-produced in a factory and can sometimes mean you can be limited in terms of fits and size.
However, here at Master Debonair, we offer an in-house alterations service that ensures our off-the-pegs suits are well-fitting and look great.  
What is the difference between made to measure and bespoke suits?
Whilst they may seem extremely similar, there are some key aspects that differentiate the two completely.
With a fully bespoke suit, the tailor will draw up a completely unique paper pattern by hand, whereas with made-to-measure the tailors work from a selection of pre-made fabrics which you can choose from.
Are made to measure suits worth it?
The answer to this question is subjective and will be different from person to person. The purchase of a made-to-measure suit is a much lengthier process than that of having an off the peg suit tailored to fit you better, lead times can span upwards of 10 weeks, and it can be pricy depending on how extravagant you want to go.
However, you will find that made-to-measure suits tend to fit much better than their ready-to-wear counterparts and if you're someone with particular style they give you much more freedom of choice than simply shopping off-the-rack.  
Is it worth getting a bespoke suit?
Again, this is entirely subjective and will depend on personal preference and circumstances. Whilst a fully bespoke suit can be beautiful to behold, the cost of creating one can be staggering – making this option far out of many people's budgets.
A well-made bespoke suit should stand the test of time, lasting potentially upwards of 20 years with the right care, however, only if you plan to wear the suit at least once a week the superior fit and time be saved by not having to buy a new suit every few years may justify the price making it worth it.  
There is a bundle of buzzwords thrown around when it comes to men's suits, so it can be a bit confusing to figure out which satin-lined avenue to venture down when it comes to buying a suit.
So, Master Debonair are here to help, defining what we mean by Off-The-Peg, Made to Measure and Fully Bespoke and what the differences are so you can pinpoint which is the best for you and get the most out of your tailoring experiences.   
When it comes to formal menswear, these are probably the type of suit you are most familiar with and have likely owned a few in your lifetime.
They're often produced en-mass, mostly come in standard sizes and are quite literally taken 'off the peg' (or rail in our case) and worn.
They're a great choice if you don't have the time to spend getting fully fitted and need something smart to wear for an occasion, the only issue you may face is a potentially limited range of sizes and fits - a tailor should be able to alter it so it is a better fit, but it wouldn't be as form-fitting as it would be if it were fully bespoke.  
Made to measure suits are usually cut based on a pre-existing fabric or pattern and you will often attend a number of consultations to get the fit just right.
At your first consultation, you will try on a number of selected samples and the tailor will be on hand to help you decide which of these best fits your frame, making any necessary adjustments to ensure it fits well.
You'll get to choose the specifics such as single or double-breasted, notched or peaked-lapel, colour etc but these choices are often limited to a small number of cloths and styles to choose from.
The suit will then be cut to these requirements and specifications and once the suit is made you will come in for a final consultation, allowing for any last minute adjustments to be made.   
A fully bespoke suit is exactly what it says on the tin, a suit that is handmade and custom sculpted to your individual shape.
There are also an almost infinite number of choices when it comes to the style of them with a vast abundance of cloths and patterns to choose from, this is the perfect choice for those who are looking for something one-of-a-kind and is exclusive to you.
A first suit shape is made exact to your measurements, and you will be invited to a first fitting where you will try on the "shell" of your suit, allowing the tailor to further sculpt the suit and ensure that it fits precisely to your shape and contours - based on this, the original pattern will be altered.
During this process the suit is often hand stitched by a highly-skilled team of people and can sometimes take up to 50 hours of extremely detailed work to get right. By the end of this process, you'll have in your hands a beautiful suit that is 100% fully bespoke to you.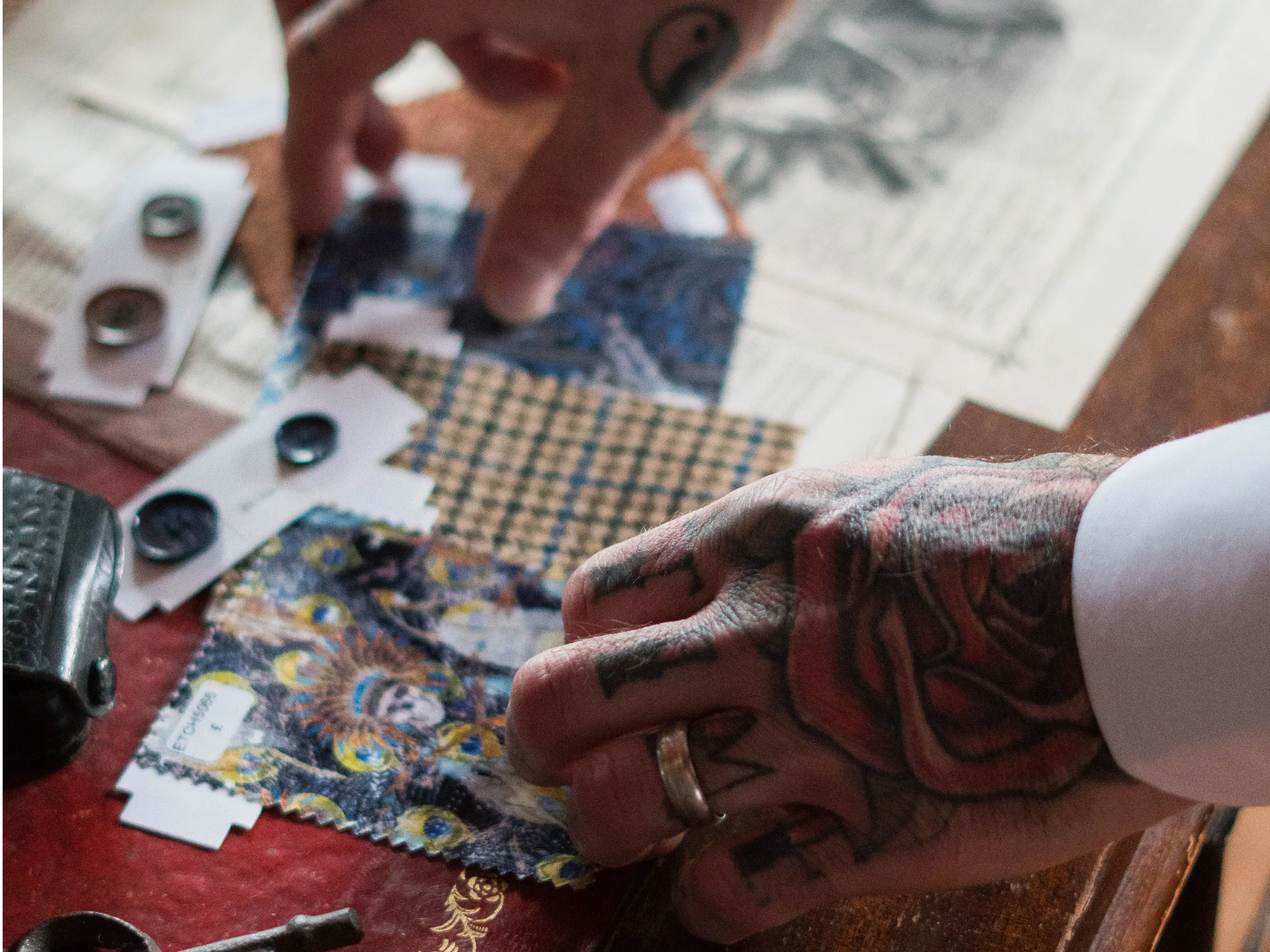 Bespoke Suits at Master Debonair
At Master Debonair we offer a custom suit service in collaboration with Etch Custom Tailoring.
Our ethos has always remained as Outfitting Self-Confidence and differentiating by detail, so we want to offer our customers a service that allows them to feel good their way and without breaking the bank.
Starting from £329, you can get a beautifully tailored suit made to your measurements that fully reflects who you are and has you looking and feeling sharp from head to toe.
We want you to enjoy this experience, so come into one of our stores, kick back and relax and flip through our wonderous book of options to find your perfect fit.   
Whether your aim is to look effortlessly stylish in the office or represent your best self at a special event, there's only one ensemble that will do: a perfectly tailored suit and shirt with your own custom design.  
 Firstly, choose from over 120 cloths from technical crease resistant and stretch blends to pure wool Italian, Linen, Velvets and English thoroughbreds  
 Then your highly trained stylist will guide you through the process to define your style and refine your fit using unique digital tailoring software  
 We leave the details up to you, but we're there if you need any advice or styling tips. It's your choice of linings, contrast buttonhole threads, piping & buttons; perhaps an embroidered name, message or date. Trim and customise to reflect your personality.