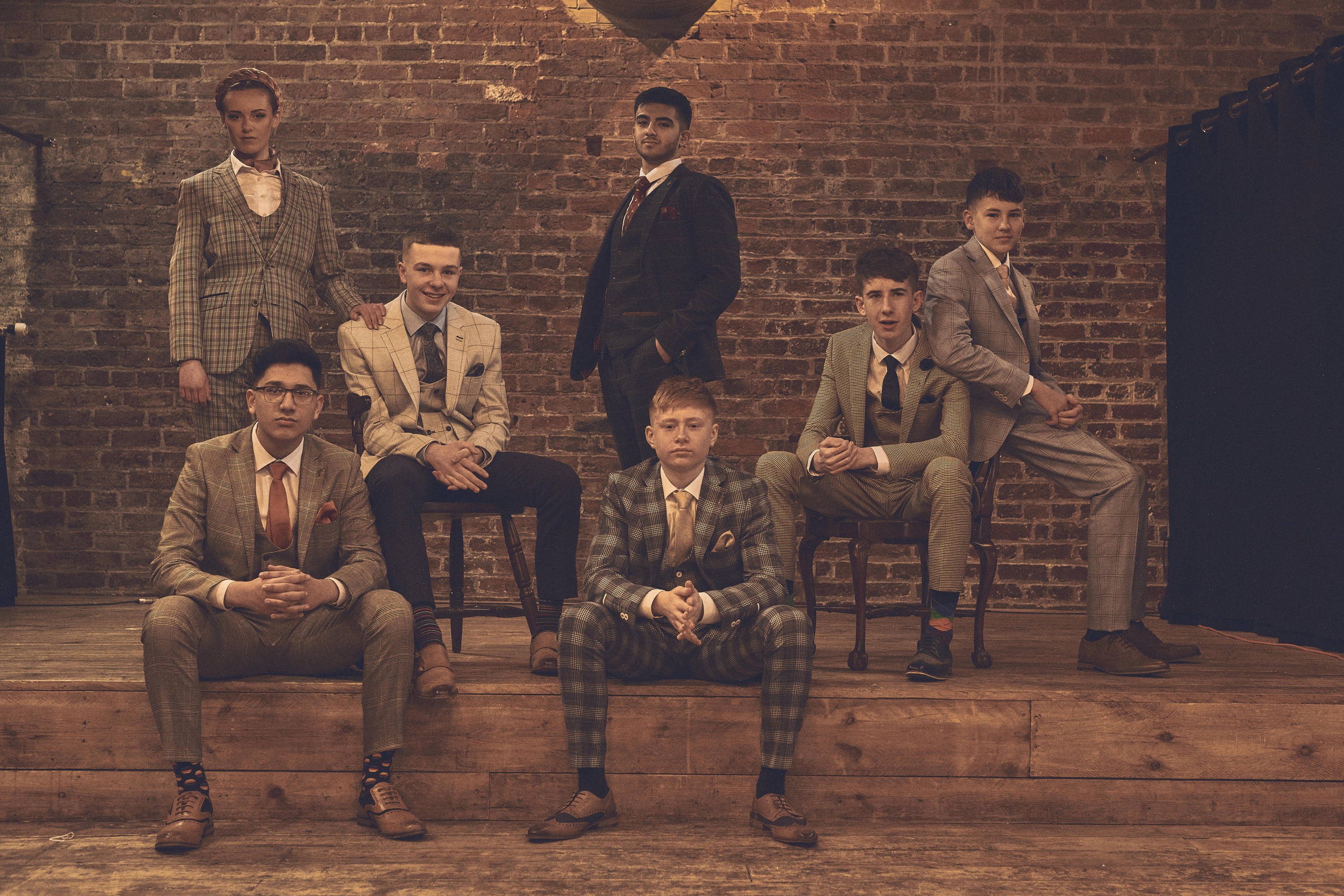 What to Wear to Prom – The Ultimate Guide for Men
Published 10th March 2022 
Prom is a time that signals an end of a chapter in your life and, as with any celebration, should be something you look forward to – especially after all the hard work you've put in to get through the term.  
We know that you want to look great but also that the whole process of prom, from searching for the right outfit to making an entrance when the time comes, can be a little daunting.  
This is why we're on hand to help you get set and prepared for your prom like a pro, teaching you how to pick out the perfect suit as well as shoes and accessories to go with it. 
Unless you're told that your prom event has a specific dress code or theme, you'll be able to make the choice between a full suit, a tuxedo or just a blazer and trousers.  
Prom suits are ideal for when you want something that strikes a brilliant balance between smart and up-to-date. Whether it's a full three piece suit or a 2-piece (blazer and trousers), all you need to do is chose what colours you want and how you would like it to fit: tailored, slim or skinny?  
It's also a great possibility if longevity is something you like to have in your menswear collection as even once prom is passed, your suit can be re-worn for any other big occasions or interviews you might attend in the future.  
The first thing your mind goes to when you think "black-tie event" or "men in suits" tends to be mental images of celebrities in tuxedos at red carpet events. The height of formalwear with signature defining features like satin lapels, a wide wing-collar shirt and iconic bow-tie, a tuxedo well and truly embodied classic, old school style.  
If the dress code for your prob specifically calls for black-tie dressing or you just prefer pushing the boat out when it comes to your formal wear, this is the perfect choice to go for – paired with some shiny black brogues, silver cufflinks and a smart bowtie, completes the look wonderfully.  
Blazers are effectively just a suit-style jacket that is great for dressing up elements of your wardrobe that may otherwise be considered casualwear such as a pair of jeans or chinos.  
If it's a less formal affair but you still want to look smart, add a blazer over a smart shirt with jeans and a pair of formal mens shoes for a relaxed approach to dressing for your prom.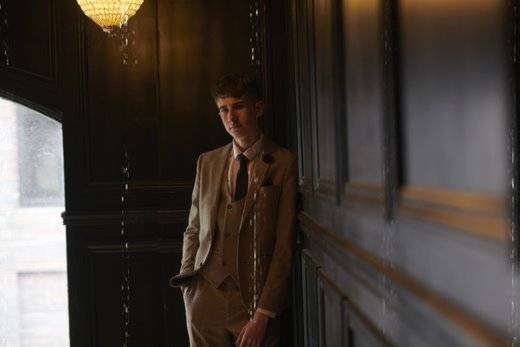 Tailored, Slim or Skinny Fit?
You want to feel your best, not just in your prom suit, but in any clothing you buy and making sure you buy a fit that matches your body type is important.
So, understanding what the different fits are and which one would be best for you is a great thing to start with before you go out buying. 
The most "loose fitting" of the three options, tailored fit suits are a brilliant way to accentuate your frame without being too form-fitting.
The defining features of a tailored fit suit are a jacket that is tapered in at the waist with classic lapels and trousers that are lightly tapered but aren't skin tight. 
A tailored fit prom suit would be the perfect option for any guys who feel they fit into the category of big and tall clothing. However, it's a pretty universal fitting so will be great for both slim and regular build guys also.  
Slightly more tapered than their tailored-fit counterparts, slim fit suits are characterised by a more defined, narrow fit around the shoulders, waist, chest and sleeve as well as a much more tapered trouser leg – creating a very sharp, modern look.
If you're a slight or regular build, a slim fit suit is a great possibility to consider.
With a shorter jacket which has much narrower lapels and shoulders as well as heavily tapered trousers, the skinny fit suit it the tightest fitting suit you can find. Extremely form fitting and offering up a very clean, modern look. 
 
For guys with a slight or slim build, a skinny fit suit is a brilliant choice.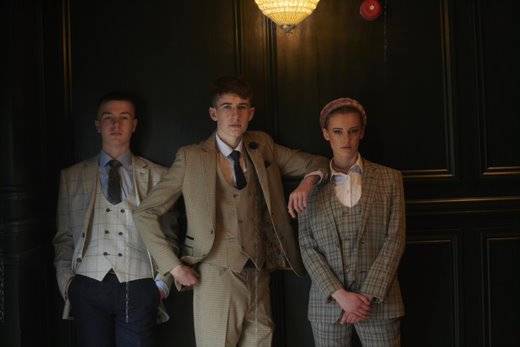 What Colour Should I Go For?
Now we have fit out of the way, the next point on our list to tackle is colour. Do you stick to monochromatic colours like grey or black or do you go all out an embrace a bold colour palette? 
Back to Basics with Black
Regardless of whether it's an out and out tuxedo or just a classic black suit, you know you're getting a look which oozes style and sophistication when you opt for and all-black approach – it's a fail-safe option which is sure-fire to have you looking the part when you roll up to prom.  
If you're wanting to take a slight step away from the classic approach of black tie but you're still not quite ready to plunge into the pool of bright colouring then a grey suit can be a very suave choice, when executed correctly.  
Styling a grey suit with a mild bit of colour in your shoes, shirt or accessories or maybe even opt for just a grey blazer over a pair of navy chinos or dark wash jeans for something that strikes a smarter casual balance.  
Using dark blues and navy is another great way to step closer towards those colour-embracing looks, but still offering that slick, well put together look that comes with the ease of putting on a safer-coloured suit like a black or grey.  
If you're someone who want anything they wear to ooze personality, then opting for a bright, un-traditional suit colour or pattern would do the trick – ensuring your outfit will be the talk of the event in the process.  
You can also embolden your looks even further with a heavily patterned or coloured tie and pocket square combination that compliments your suit colour, or even dial it up a notch with a colourful or patterned shirt.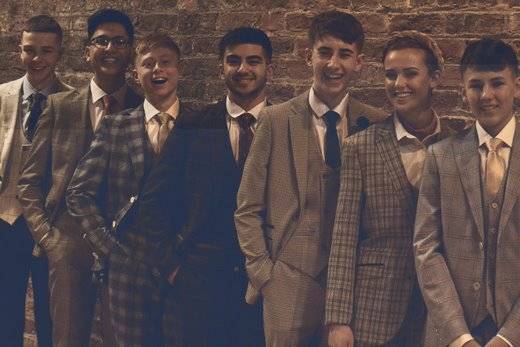 How to Accessorize for Prom
Speaking of ties and pocket squares, accessories are another key element of what to wear to prom for a man. Whilst for a more formal event a tie might already be a given, there are some other pieces that you should consider as well.  
Going hand in hand with your tie, adding a pocket square to the chest pocket of your blazer (whether you're wearing a full three piece suit or the just blazer and jeans or trousers) just gives your full prom outfit a boost. Especially if you brave it with a more detailed patterned style like a paisley, floral or check.
If bold coloured or patterned ties and pocket squares aren't quite your thing and you would prefer a more classic touch, a pair of cufflinks is always a brilliant option – brining an extra element of class and sophistication to your prom look. 
Often the last thing though about and usually regarded as an "out of sight, out of mind" kind of accessory, socks can actually be a make or break element.
You've spent all of this time and effort making sure you're looking and feeling your best, you don't want to undo that by finishing off your smart outfit with a pair of tatty, hole-ridden socks.  
Pick a colour or pattern which compliments your suit or even matches with your tie and pocket square to give your outfit some continuity and balance.  
You don't want to be spending the whole night pulling your trousers up (which you shouldn't have to if your sizing is right), nor do you want to turn up wearing a worn out belt. So, making sure you've got a fresh looking belt, preferably one that matched the colour of your shoes, will do the trick.  
If you want something a little different and offers a bit of personality, a pair of braces is a great detail to show you've made a real effort with your look.
Your prom shoes will say a lot about how much thought you've put into what you're wearing, so it's good to pick a pair which tie in well with your choice of attire. 
 
As we mentioned earlier, if you're opting for full tuxedo or black suit then you should probably go for patent leather black dress shoes.  
However, if you're going less formal then you have vast avenues of choice to venture down when it comes to colour and styles. For example, tan brogues would go really well with grey or navy suits.  
Should I Buy or Rent a Suit?
Ultimately, that decision is up to you to make but here at Master Debonair, we don't offer a hire service. However, if you're stuck on whether renting or buying is the best option for you, we've weighed up the pros and cons of each option for you.  
Got enough ideas to help you decide what to wear for prom? Take a look through our ever-expanding range of prom suits to get yourself suited and booted.