---
master debonair summer style picks
It can be a little tricky to maintain a sartorial look when things start heating up. We don't want you to have to compromise your suave wardrobe to remain cool, so we've put together a guide of how to style a faultless debonair summer look.
Whether it's a lightweight suit for a special occasion, a casual outfit, or something to wear to work, we have everything you need to remain effortlessly stylish throughout the summer months.
---
---
The Guide London Light Blue Smart Check Suit is smart and sophisticated, making it the perfect choice for summer. Its lightweight fabric, light colour and blue and white floral lining make it suitable for any summer occasion.
---
---
---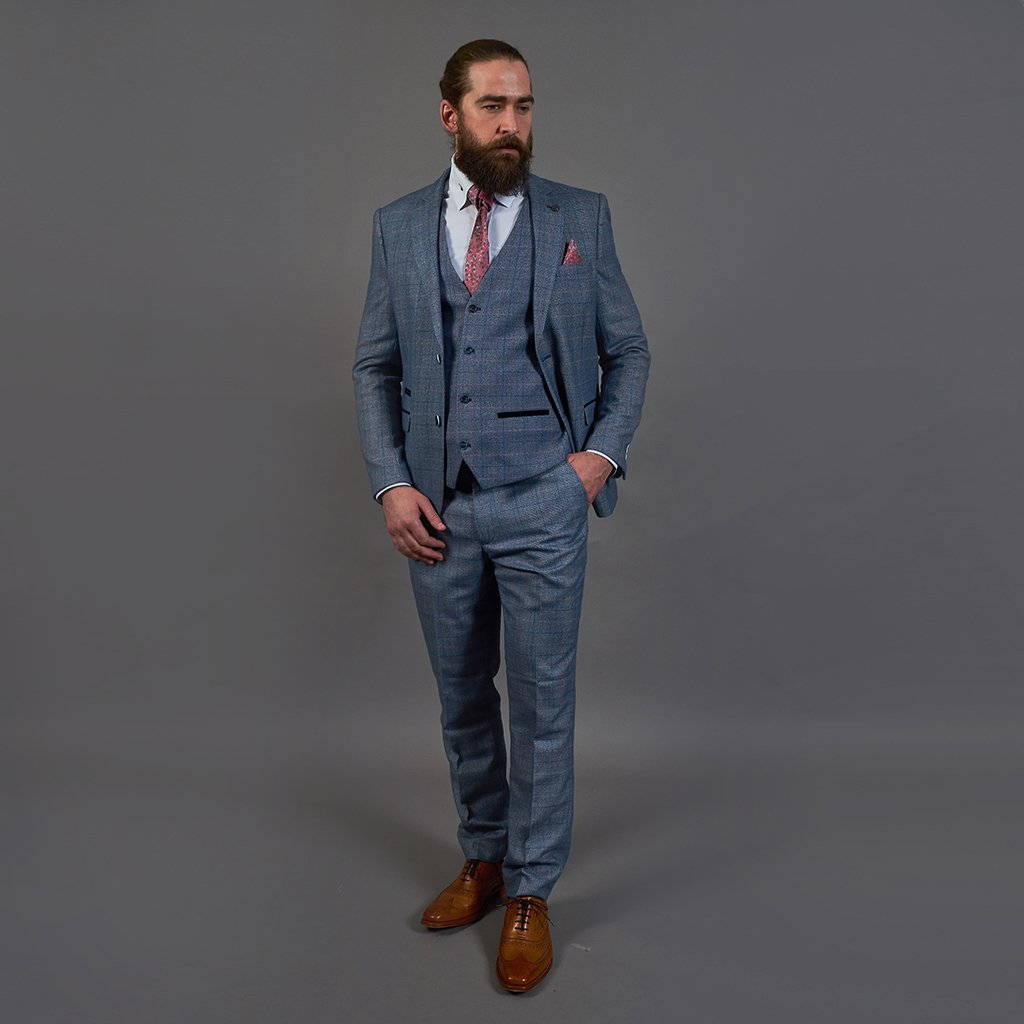 ---
Workwear can be tough to get to get right during the summer. Long sleeve shirts and a heavy dark-coloured suit can seem like a stuffy option when the weather is hot. The Marc Darcy Sky Blue Check Tweed Suit is perfect for the office during the hotter months, with lightweight fabric and double vented back, this suit is airy and breathable. The subtle salmon contrast in the check brightens the blue to add a vivid touch to your everyday attire. You could also try our mix and match suit option to customise and create the most comfortable and fitting summertime suit for you.
---
---
---
---
the casual summertime look
---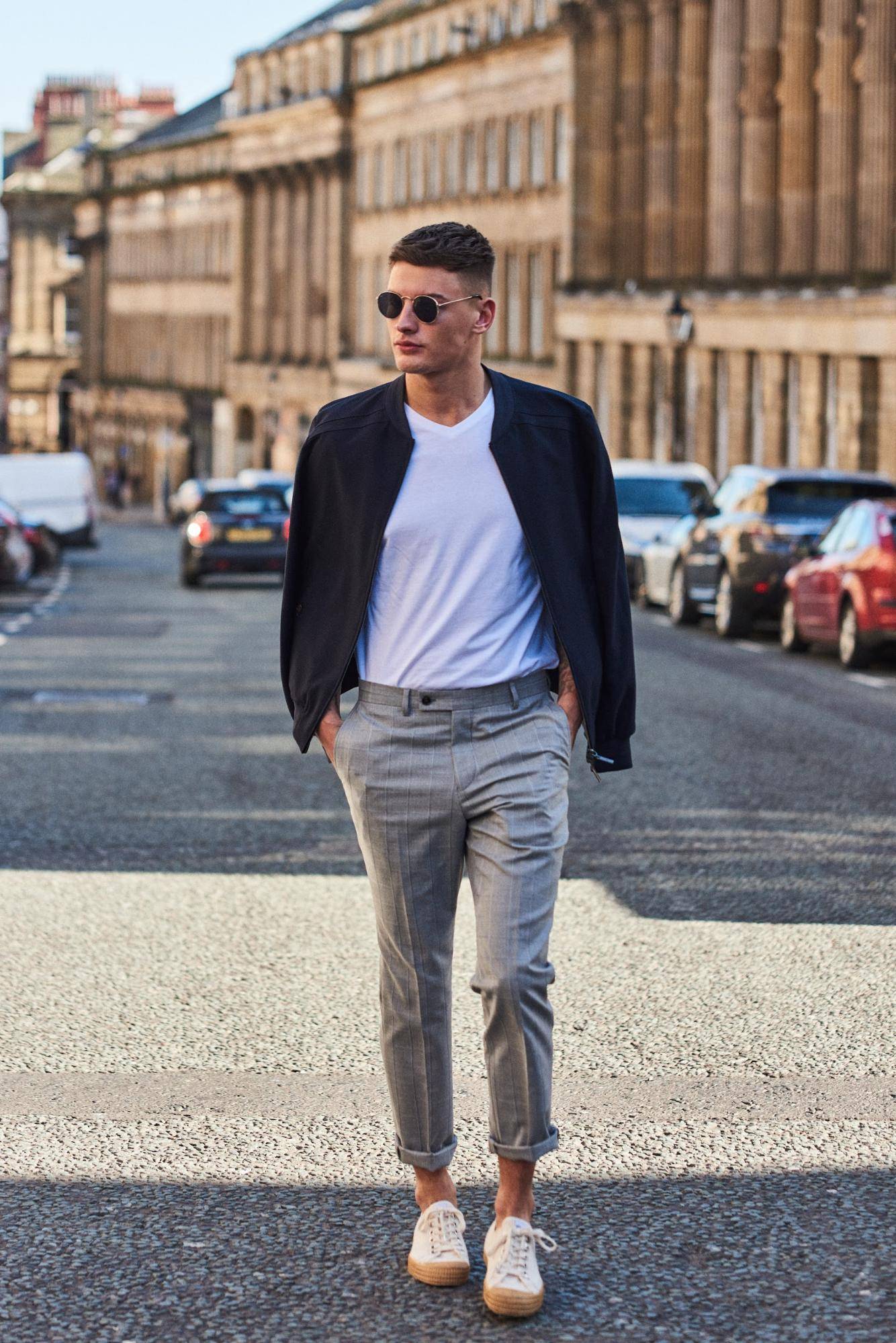 ---
---
---
the evening summertime look
Nothing says summer like a crisp, white shirt. The detail on the Guide London Cotton Jacquard Shirt makes it an exciting take on your standard plain white shirt, with sateen fabric and multicoloured stripe collar and cuffs that add vibrance to create a bright summertime feel. This shirt is suitable for any occasion and can be matched with anything from jeans or chinos to dress trousers or a three-piece suit.
---
---
Now the outfits for all of your daytime and nighttime affairs are sorted, why not add some extra flair with some debonair accessories?
---
cavani tan tweed brogue shoe
The Cavani Tan Tweed Brogue Shoe is light yet durable, making it a fitting choice for the unpredictable British summer time. The tan colour makes them easy to pair with almost anything, add to your workwear or match with chinos and a t-shirt for a casual everyday look.
---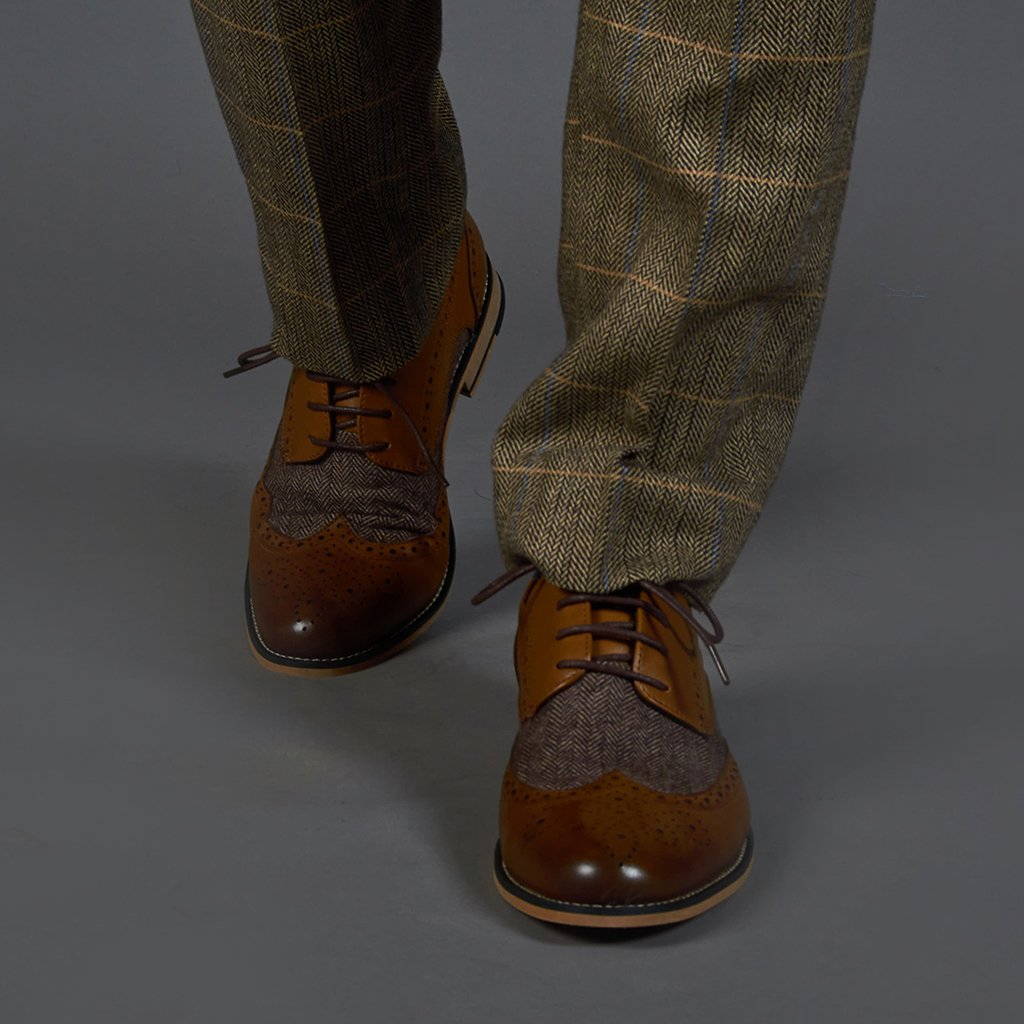 ---
champagne floral silk tie
When it's hot, a tie can seem suffocating, but it doesn't mean you need to sacrifice your elegance in the name of cooling down. If you have a wedding or stand-out event this summer, try out the Champagne Floral Silk Tie, it's light and made from 100% silk, making it delicate and airy. Add the matching Champagne Floral Silk Pocket Square to your suit to complete the look.
---
---
---
The Barker Shoes Plain Belt in Cedar Calf/ Paisley Laser boasts a bold and lively paisley pattern that can add panache to any outfit and is a fun accessory worthy of the summer. Cut to size on order, you can be assured that this belt will be the perfect fit to pair with all your trousers and jeans.
---
---
happy socks big dot 4 pack
One of the finer details that often goes overlooked is a good pair of socks. In the summertime, you're gifted with the chance to roll up those trousers or put on a pair of shorts and show off your stylish accessories. We recommend the Happy Socks Big Dot 4 Pack Gift Box, with a nautical feel these socks are perfect paired with chino shorts for a day by the seaside.
---
We hope you're now filled with inspiration to maintain a sartorial look during the summer. Need further help with filling out your summer wardrobe? Why not visit us in store, we'd be happy to assist and help to find the perfect styles for you.