---
Are you sick of wearing the same pair of shoes to every occasion? Well, we at MD have the ultimate shoe solution. We have a new collection of footwear fresh in this season for every type of gentleman. Whether that be the classic man who likes to dress smart daily or the bold guy that likes to stand out, we have a pair for you. Shop the Master Debonair shoe collection today.
---
JUSTIN REECE DENNIS TOE CAP DERBY SHOE - BROWN LEATHER & NAVY SUEDE

A classic shoe for the sophisticated gentleman. The Justin Reece Dennis Toe Cap Derby Shoe has two hues, a brown leather paired with a navy suede detail. This shoe will go with any of your MD suits as the brown complements any colour, although the suede will match a navy suit immaculately, for example, our Navy Fratelli. Two pairs of laces are available with this shoe, as well as a shoe horn and a shoe bag to make sure your MD shoes maintain the best condition.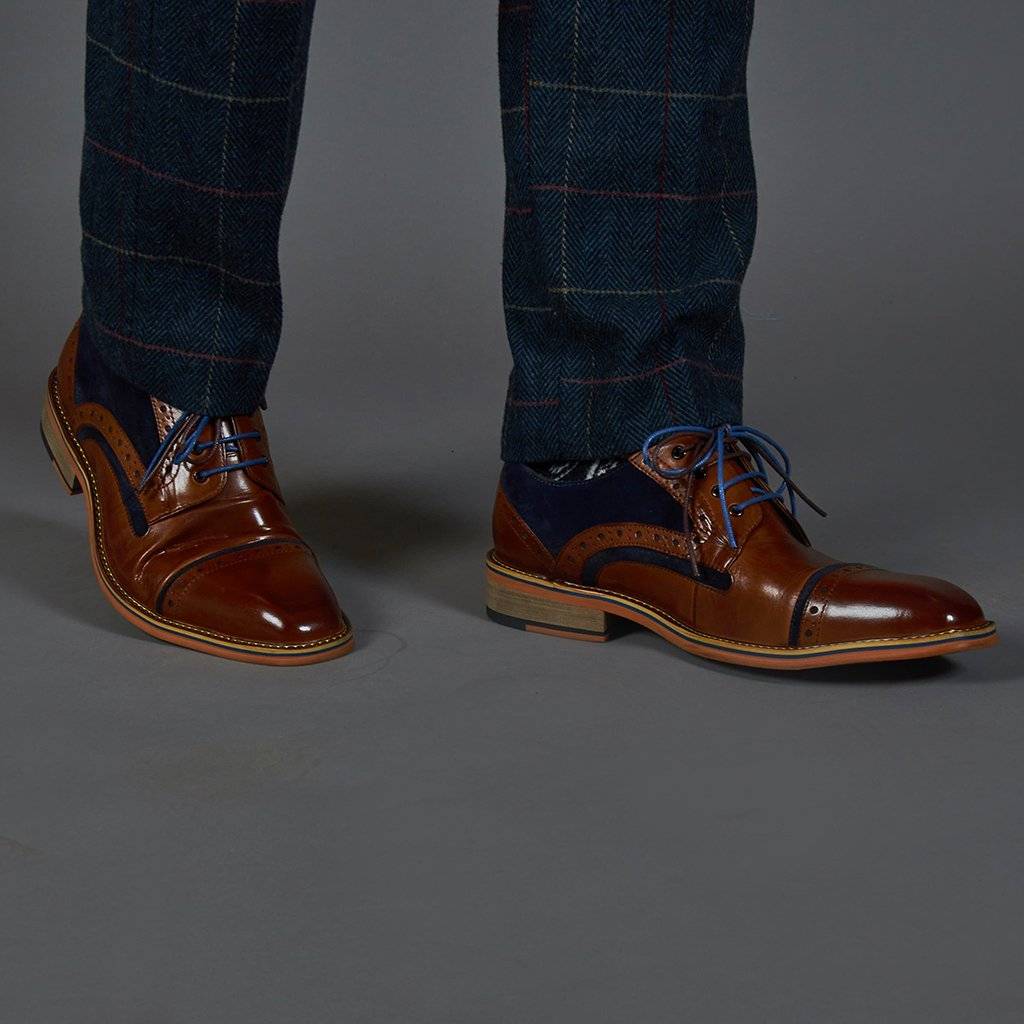 ---
CAVANI NAVY TWEED BROGUE SHOES

Be bold this autumn and wear a navy brogue. A sleek shoe with a unique colour value. The brogue has punched leather adding a sophisticated detail as well as a contrasting herringbone tweed section in a slightly lighter tone. This shoe will add colour to any of your MD suits and is complemented by a navy suit perfectly. How about pairing our Cavani Navy Brogue with our Eton suit? The perfect winter wedding attire.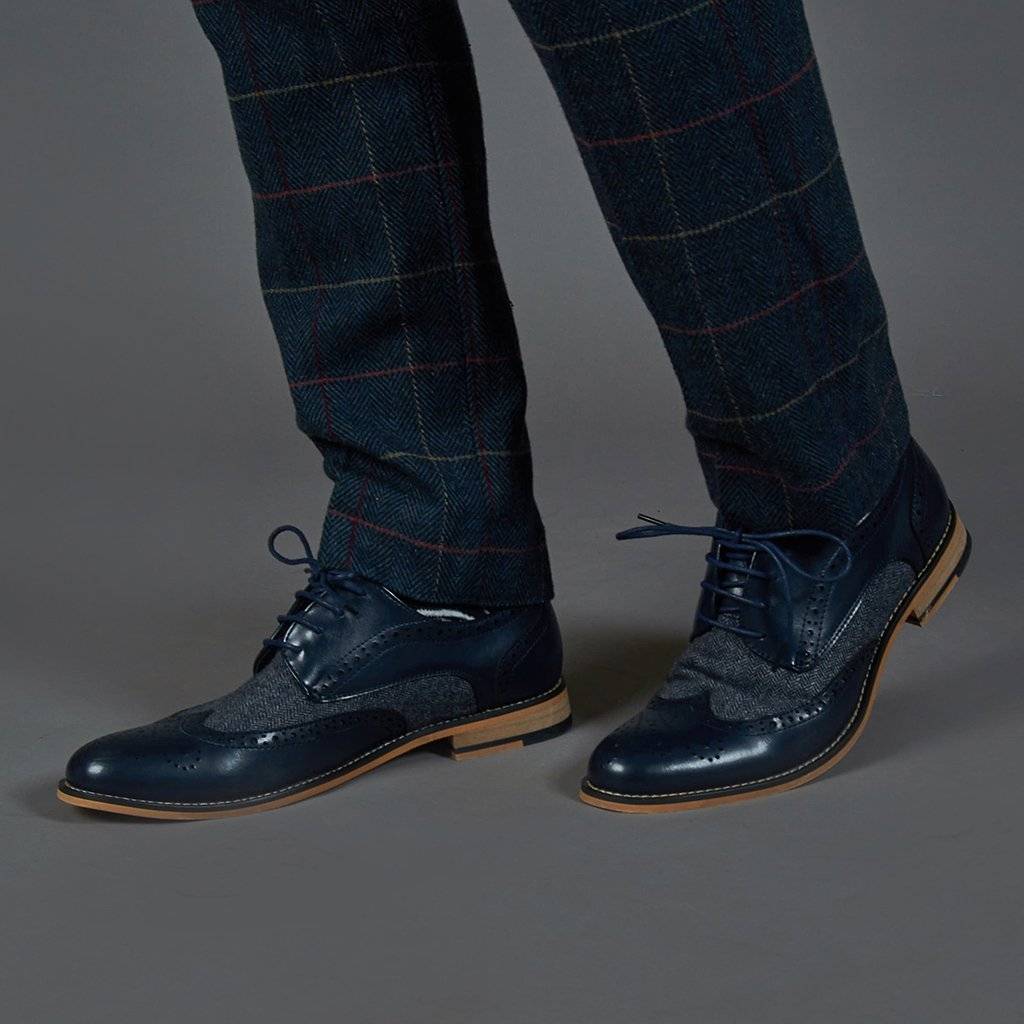 ---
BARKER SHOES GRANT BROGUE - CEDAR CALF/PAISLEY LASER

A favourite of Master Debonair himself. The Barker Brogue with Paisley Laser. The paisley design modernises the classic brogue creating a subtle statement. An easy way to add style and pattern to any MD look, not only a suit but a simple roll neck and jeans. If you love this laser detail you may be interested in our in-house shoe tattooist, that way you can create your own personalised shoe design. Check it out here.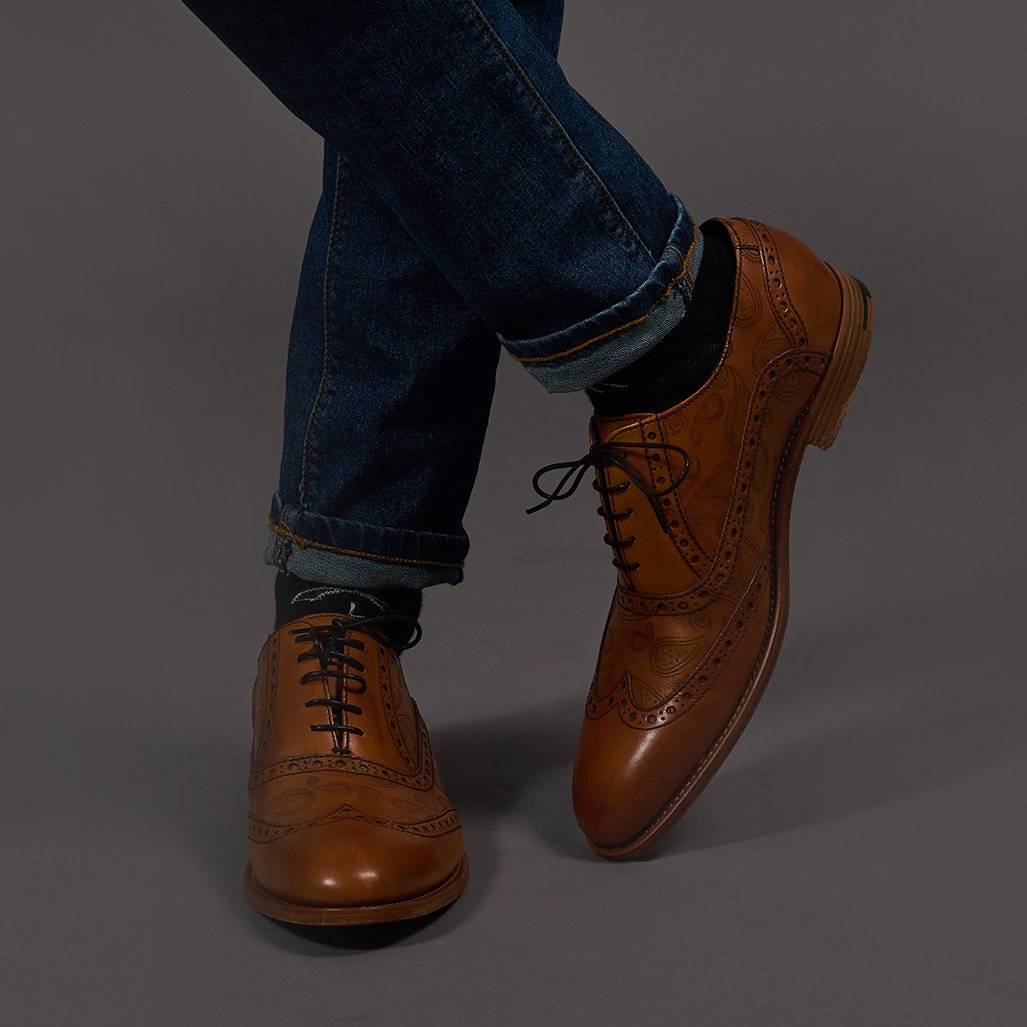 ---
JUSTIN REECE BROWN MONKSTRAP SHOE

The perfect Christmas present for any gentleman in your family. The Monkstrap has unique aesthetics in its own right - a change from the loafer and the brogue, adding a little diversity to your shoe collection. The bold Monkstrap fastening has two buckled straps, which are practical as well as aesthetically pleasing, making it easy to slide the shoe on, although they do come with a shoe horn and a shoe bag to keep your shoes in immaculate condition.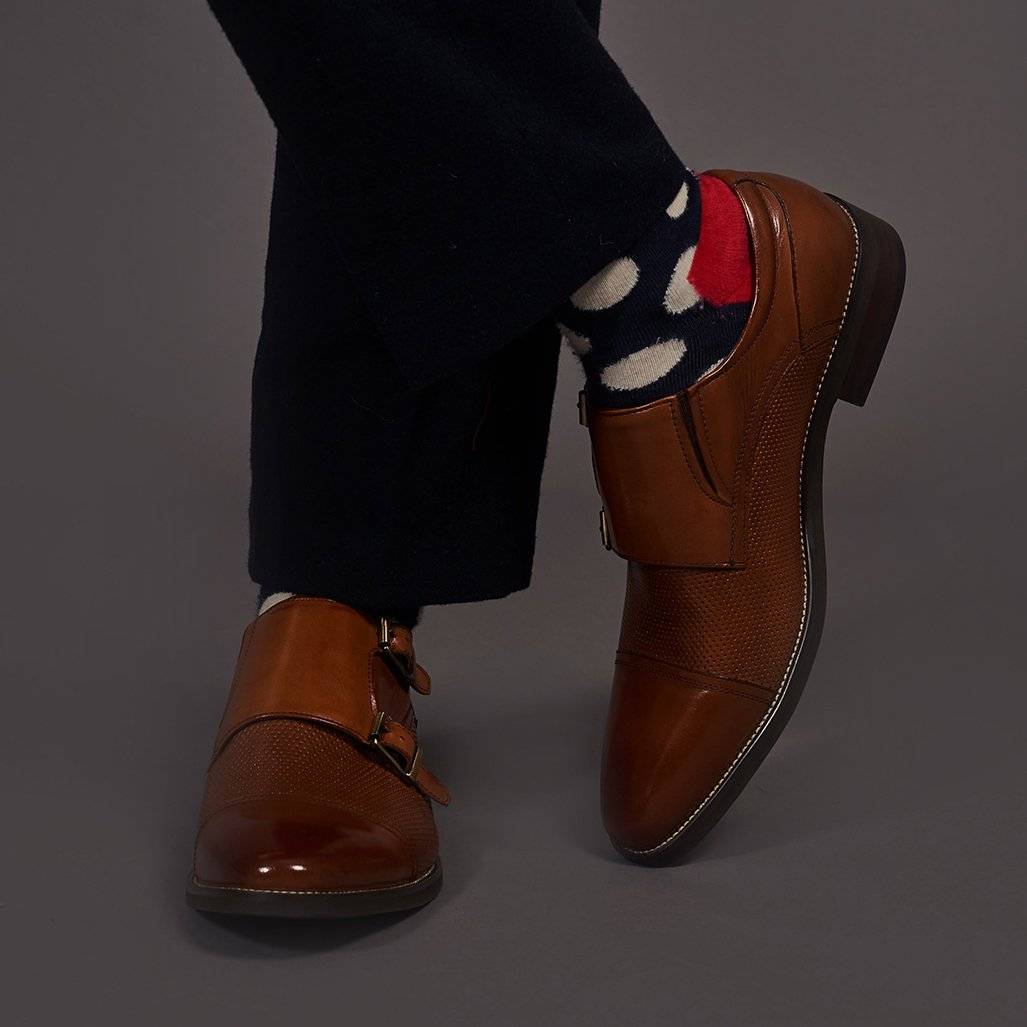 ---
JUSTIN REECE TAN VINNY BROGUES

Be immaculately tailored anywhere you walk in the new Justin Reece Tan Vinny Brogues. Not the usual classic brogue as the houndstooth patterned material contrasts against the burnished brown leather, giving the most sartorial finish. The laces are in two tones adding extra aesthetic qualities. How about pairing the Tan Vinny Brogues with our new Robert Simon Check Tweed Wine, Double Breasted Suit - the perfect combination for a wedding this season.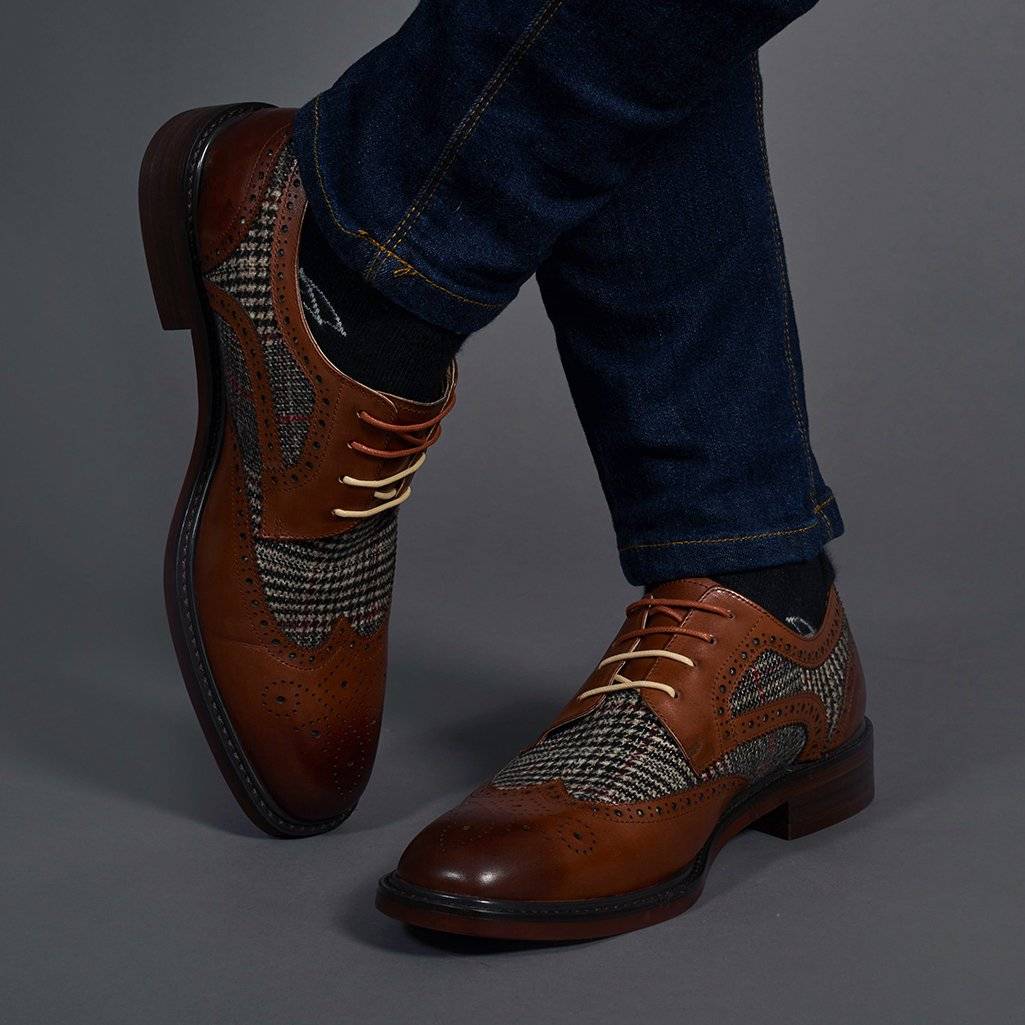 ---
CAVANI BLACK OXFORD BROGUE SHOES

Be classically debonair in our Black Oxford Brogues, a staple shoe that every gentleman must have in their wardrobe. This timeless shoe is suitable for any occasion. Are you attending any balls or dinner parties this season? Then take our black brogue and shop our new collection of dinner jackets - two items you must combine! Attend your Christmas party the MD way this year...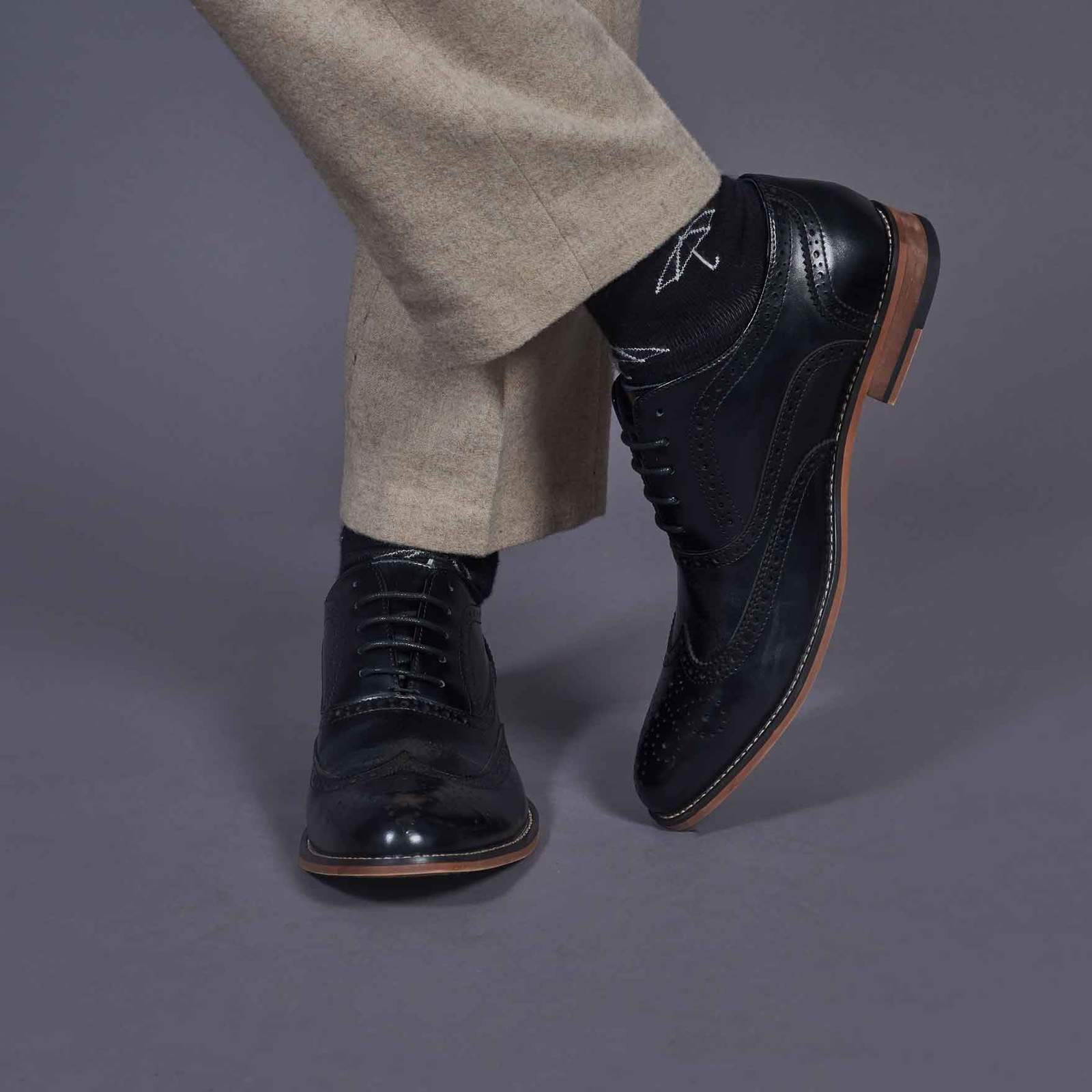 ---
SHOP THE SHOES OF THE SEASON