---
THe Importance of a good-fitting suit
It's really important when buying a suit that you get the perfect fit. Even the slightest mismatch in size, such as a sleeve that is too long, or a trouser leg that's too short can throw off the whole look of the suit and make it look anything but sophisticated (no matter how much it cost). But a question we are often asked by many of our customers is how do you find the perfect fitting suit?
Even in dress-wear, you should feel comfortable and able to move freely and breathe properly. You shouldn't ever feel like you can't wait to loosen that tie, or be wishing you could slip into a pair of joggers simply because you're wearing a suit.
These can be signs that you're choosing the wrong sizing when buying a suit. If this is the case, then we've put together the ultimate guide to answer all of your sizing queries, which will make online shopping for your perfect suit at Master Debonair even more simple. Whether you want to have your suit custom tailored, or simply buy off-the-shelf, we can help you get the right size.
---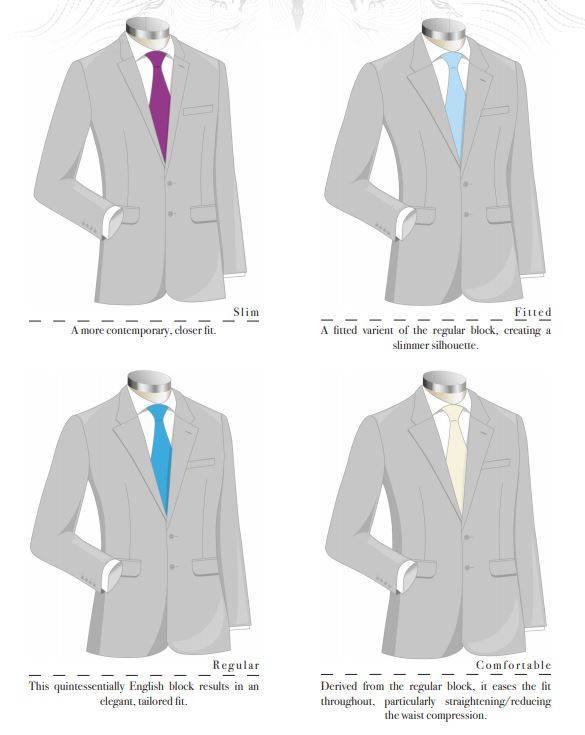 When it comes to purchasing a suit jacket, you first need to get an idea of your full body measurements. This is to get a better understanding of the overall style of fit you will look best in, whether this be slim fit, comfort fit, regular or fitted. The tailor would refer to this step as 'the drop'. Next, you need to determine which length is best for you, which can be done by taking a measurement of your entire torso, from the top of your shoulders to your hip.
You must also measure your over-arm shoulder width. When doing this, wear a dress shirt style similar to the one you plan on wearing with the suit, if not the same one. This will make sure your suit jacket isn't too tight. Measuring your over-arm shoulder width will determine the width of the jacket, so make sure you measure from shoulder to shoulder, running across the top of your back just below your neck. The tape measure shouldn't be pulled taut, as this can result in the suit jacket being too tight.
Next, you will need to measure your chest. First, raise both arms and run the tape measure underneath and around your chest. Remember to stand as relaxed as you possibly can, just like you would when wearing your suit, but be sure not to arch your back when doing so. This is referred to by tailors as your 'natural stance'. Once the tape measure is around your chest, lower your arms to keep the tape measure in place.
To measure your arms, place the start of the tape measure on your shoulder and move the tape down to your wrist. If you're having a bespoke suit made, or having your suit custom tailored, then an in-sleeve measurement may need to be taken, measuring from your underarm down to just below your wrist. Your tailor will advise if this is necessary.
Don't forget to take a collar measurement by measuring your neck. Take the tape measure to the bottom of your neck, above your collarbone and wrap it around.
The jacket is the 'main-event' of a suit, so ensuring this isn't ill-fitting is really important to the finished look of your suit. If the jacket is oversized, you run the risk of looking like you're playing dress-up and if it's too tight, you'll look and feel uncomfortable.
To know you've got it right, your jacket should lie smoothly on your back, with your sleeves revealing about 1.5cm of your shirt. These should also lie smooth, avoiding tightness or bunching beneath your underarms. For the best results, undergo a professional fitting of your desired suit and then have a tailor customise it for a seamless fit, specific to your exact measurements.
---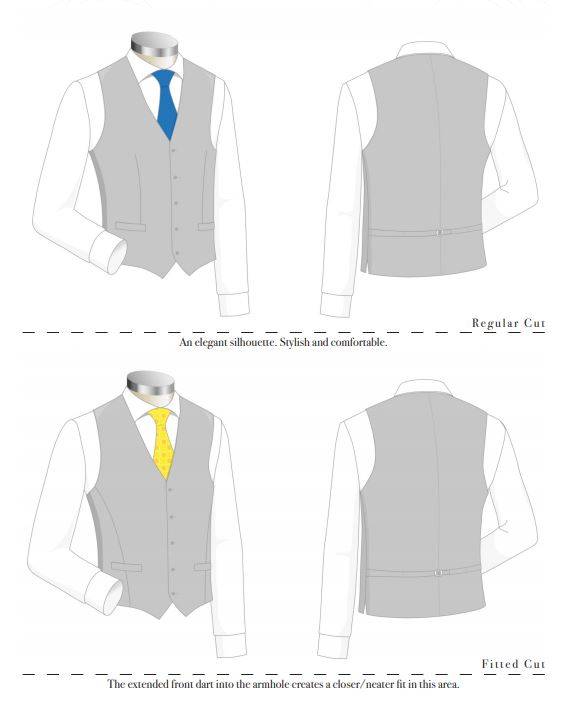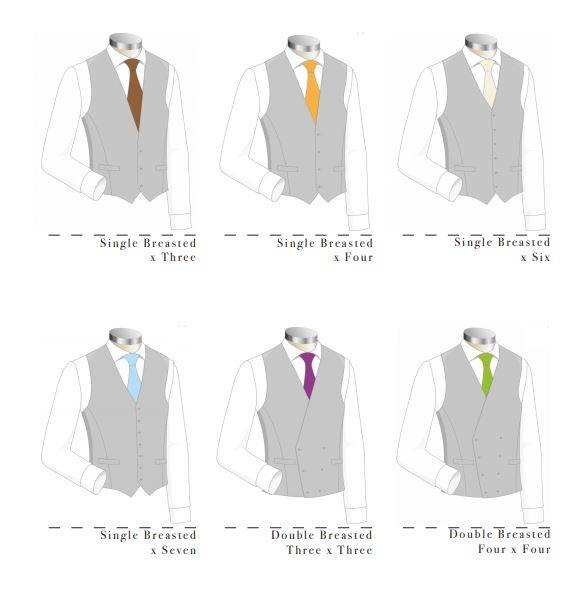 The waistcoat can be the make-or-break element of a good suit. Adding a waistcoat to turn a suit into a three-piece can add extra decadence and allow you more freedom to play with pattern and colour schemes, mix and matching with your suit and creating a contrast. In other words, the waistcoat can really help to make your suit stand out.
However, no matter how much planning goes into the colour co-ordination, if you want your waistcoat to look good, then you need to get the perfect fit. You'll know you've achieved this if your entire waist is covered by the material, and it fastens comfortably while staying flush against the torso.
Much like your jacket, you should never feel restricted in movement by your waistcoat, if you do, it isn't the right fit! Your waistcoat should always be sitting flat on the shoulders and should not be misplaced each time you move. If there are large gaps, or any gaps caused by moving, then this means your waistcoat is too big.
When measuring for your waistcoat sizing, you should again wear a dress shirt, which should sit nicely on the body without looking baggy or creased. This will allow you to see if your waistcoat is too loose or too tight.
You'll also need to choose whether you wish the fit of your waistcoat to be fitted or regular and single-breasted or double-breasted. All of these factors will determine the best fit for your body. The measurements you'll need to determine your size in a waistcoat are your chest, measuring from the bottom of your left underarm across your chest to the right underarm.
Then you need your waist measurement, from the widest part of your stomach. Avoid measuring where your trousers sit, as these are completely different measurements and your waistcoat will not fit. Your belly button is usually a good marker for this. Lastly, you'll need your back length, measuring from the base of your neck where your collar sits, to the bottom of your trouser belt. Do not measure to the top of your trousers as your waistcoat should cover your shirt and this may result in it being too short.
A waistcoat is a unique piece and it can be difficult to get the right fit without professional help. We recommend having a professional fitting carried out to ensure you get the perfect size for you. You can book a free appointment with us today.  
Having a waistcoat that fits perfectly and adds a distinct touch to your whole suit means you can remove your jacket during the occasion too, which is always a bonus as you get to show off your statement waistcoat and feel extra comfortable without compromising your look!
---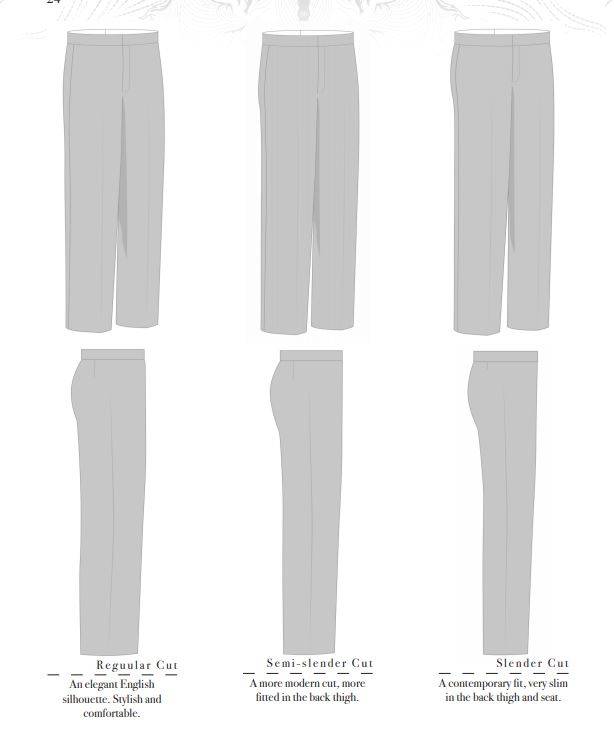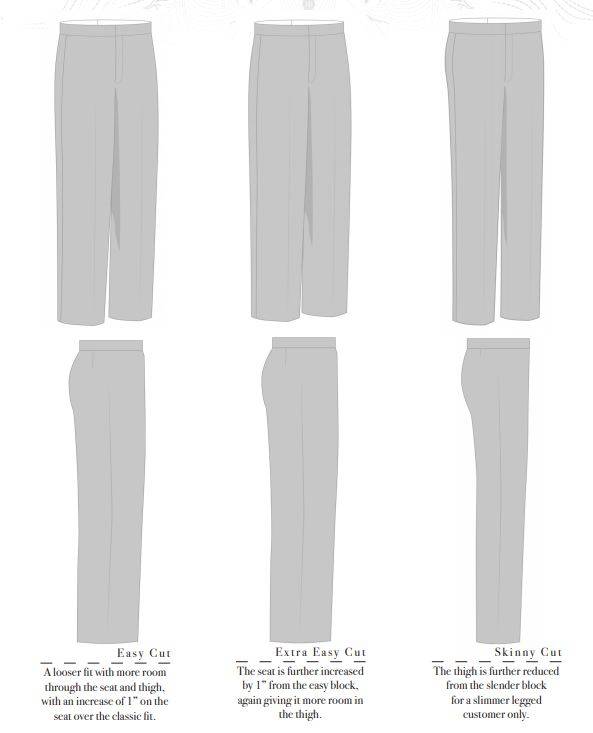 It's best when measuring for the correct trouser size that you wear a pair of smart shoes to ensure the hem will be the correct length. When you step into a pair of shoes, you can gain a little extra height and this can change your stance slightly.
First, you'll need to measure your waist at the widest part of your hips - this is where your trousers will sit once fastened. Then measure your outer leg, this is also known as the outseam. Simply place the tape measure at your hip and run it down to your ankle.
The inside leg, known as the inseam, must also be measured. Having the correct measurement for both the in and outseam ensures that the trouser leg won't ride up and fits correctly around the width of the leg, as well as the length.
The length of the trouser leg will not only depend on your leg itself, but also the style of suit you choose to opt for. For some styles, the hem will sit a little higher up the leg than others, and some may overlap the back of your shoe. Whether you go for slim, slender, easy, skinny or regular cut is all down to personal preference. Book an appointment with one of our professional stylists to choose the best style of suit for you, before having our tailors customise it for the perfect fit.
---
find your perfect fitting suit
Now you know how to find a suit that fits immaculately, head to our Suits range and check your measurements against our ultra-accurate size guides to determine which size option will be best for you. Each brand may have a slightly different size guide unique to the particular product, so be sure to check for every item that you view!
If you'd rather have your suit custom tailored to ensure you get the fit to help you look the best you can possibly look, book an appointment with us to choose your style of suit and have it altered to achieve the ultimate fit.
---