---
WEDDING AND GROOM SUITS NEAR NEWCASTLE
Based in the North East, here at Master Debonair we specialise in bespoke suits and tailoring for those who want something a little different to the typical wedding suit. Whether you pay us a visit at our boutique store, our purpose-built studio or on our website, we have a huge range of suits for you to choose from near Newcastle.
We have so much choice when it comes to suiting up your entire groom's party, no matter the colour, the fabric or the intricate details, we can deliver the perfect suit that meets all of your needs.
Master Debonair wedding looks each have elements that can be mixed and matched to create the exact look you desire. Just decide whether you want a two- or three-piece and we can help you form the rest.
If you're unsure of the fit, colour scheme and accessories you want for your suit, then we have a team of professional stylists on-hand to help kit out the entire groom's party near Newcastle. Better still, we can create complete looks with the groomsmen to be sure that the theme is seamless but the groom still stands out on the big day.
No matter your shape, style and tastes, we've shortlisted some of the best Master Debonair suits for you to shop the perfect wedding look near Newcastle. If you like the look of these suits, visit our weddings & occasions page to make an appointment for you and your groomsmen today.
Shop for your wedding suits in luxury near Newcastle, our purpose-built studio is complete with complimentary bar for you to make shopping for your wedding suit a special experience.
---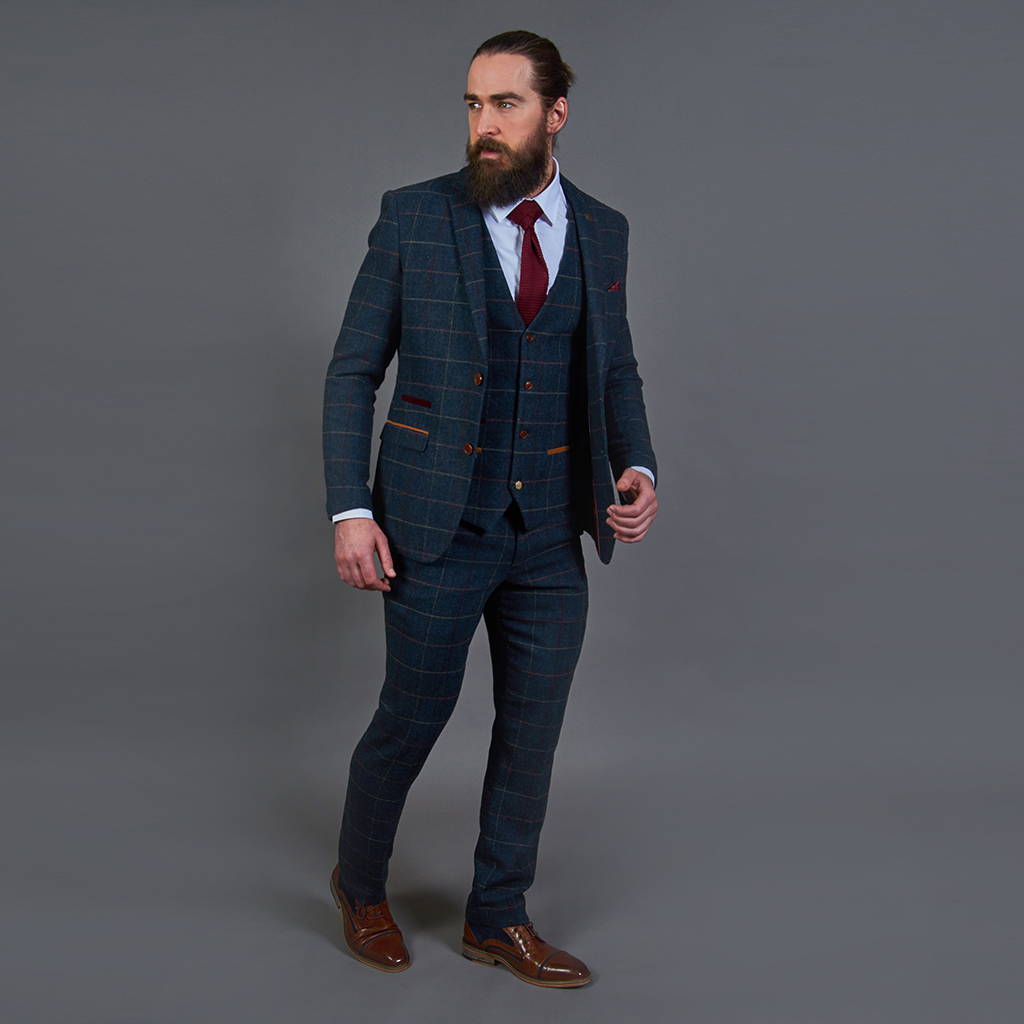 ---
The Eton Navy Check Tweed is a unique twist on a standard blue suit. With a subtle wine and tan overcheck that brightens the blue to create a distinct shade, and contrasting wine and rust coloured trims, this suit makes a big statement with its small touches. Add gold or burgundy coloured accessories for further fine details that will make this suit truly shine on your wedding day.
---
---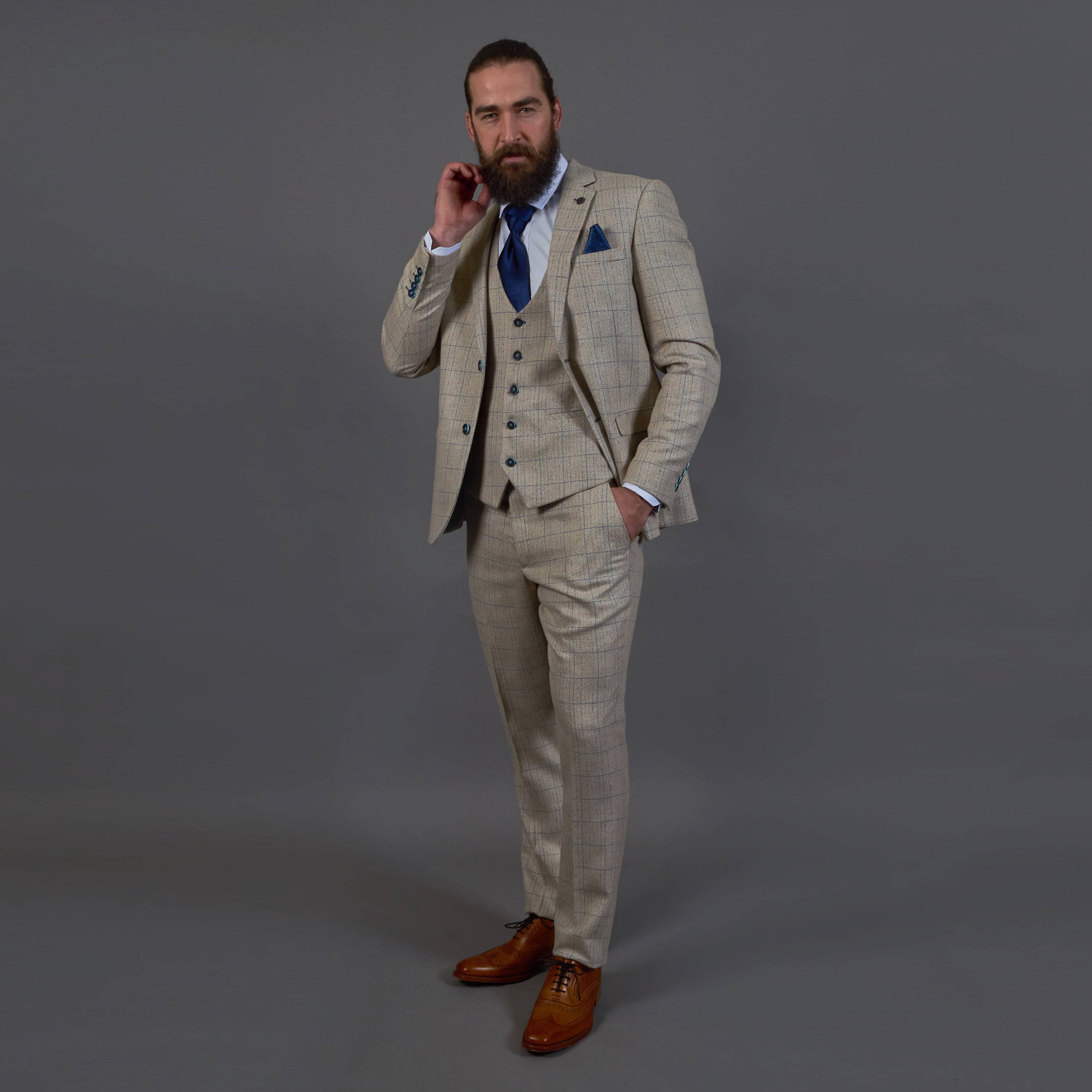 ---
The cream fabric of this tweed style wedding suit is complemented by a bold blue, green and red overcheck that makes it the perfect look for a spring/summer wedding. With seamless contrasts, this suit can be accessorised with almost any colour scheme, from bright blues to vibrant reds and cool greens, no matter your style you can truly make this one your own.
---
---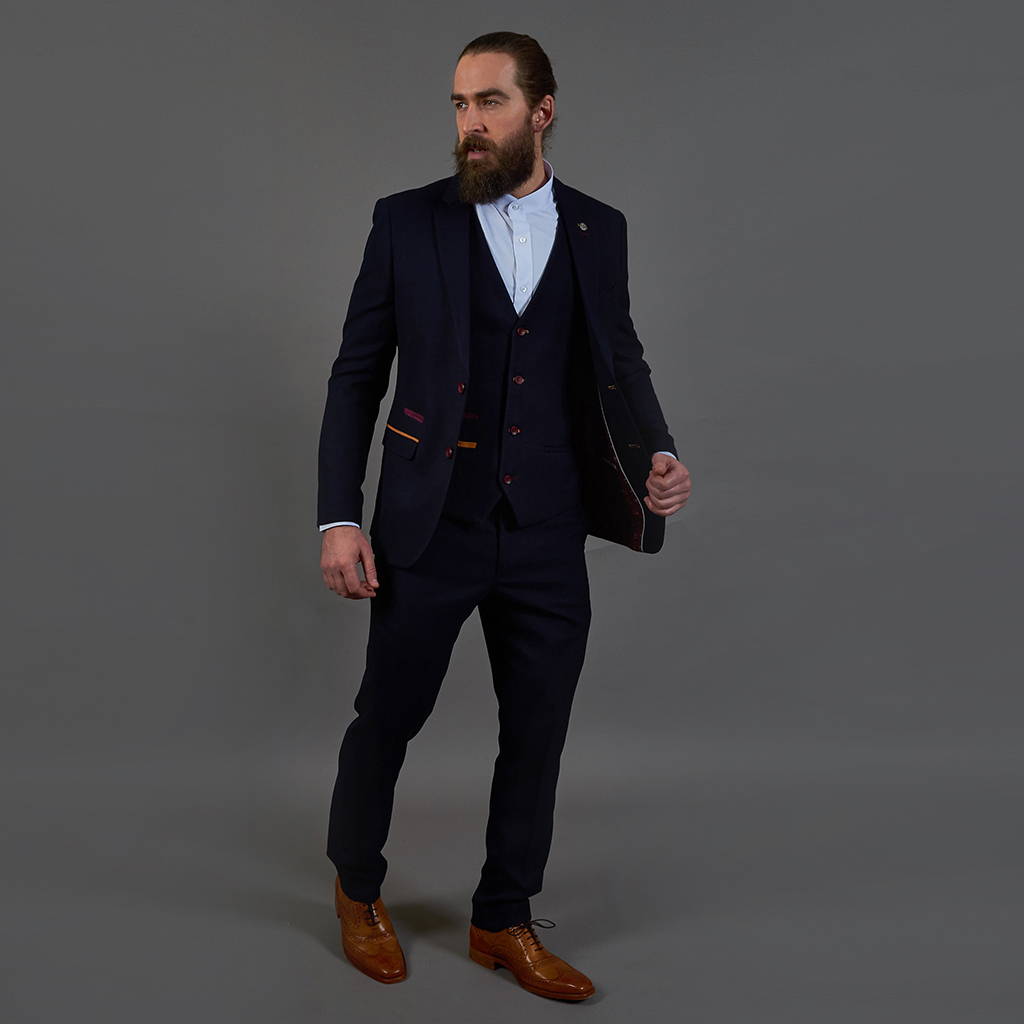 ---
This suit is the perfect option for the distinguished groom or groomsmen who like to keep things toned down, yet suave. The JD4 features a rich navy fabric that is enhanced by defining contrasting details, such as the wine trim and button hole stitching and the sophisticated spot lining. As the groom, mix and match by wearing a contrasting waistcoat that is different to the groomsmen's, making a subtle statement at your wedding.
---
---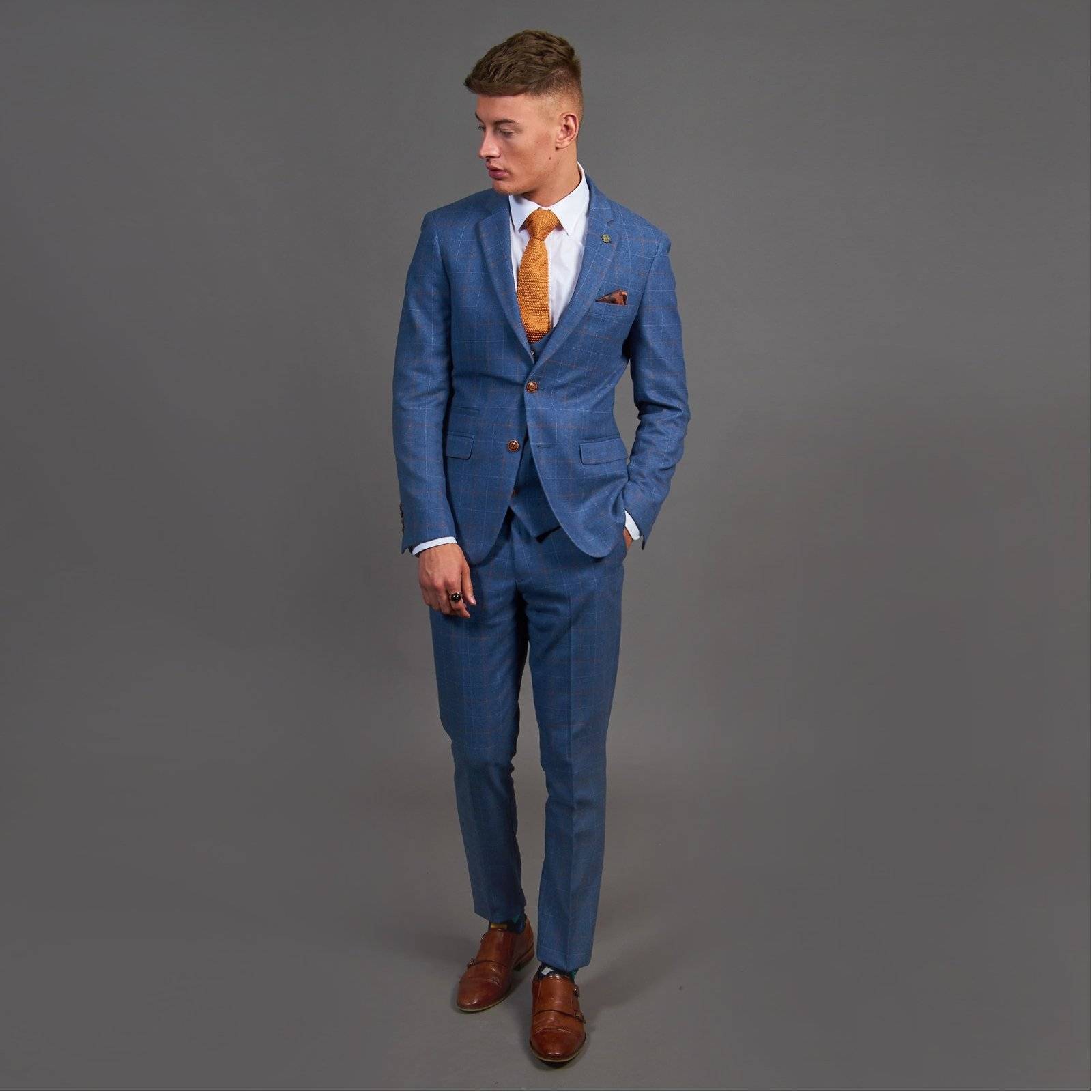 ---
This suit is for the groom, groomsman or wedding guest that likes to stand out. The Matthew Sky Blue Check suit is full of intricate details, from the unique lining to the notch lapel and contrasting button fastening. This one also comes with an elegant pocket square that matches the lining inside to create a complete look. Add a pair of brown leather brogue shoes and some bold accessories to make this suit colour pop even more.
---
---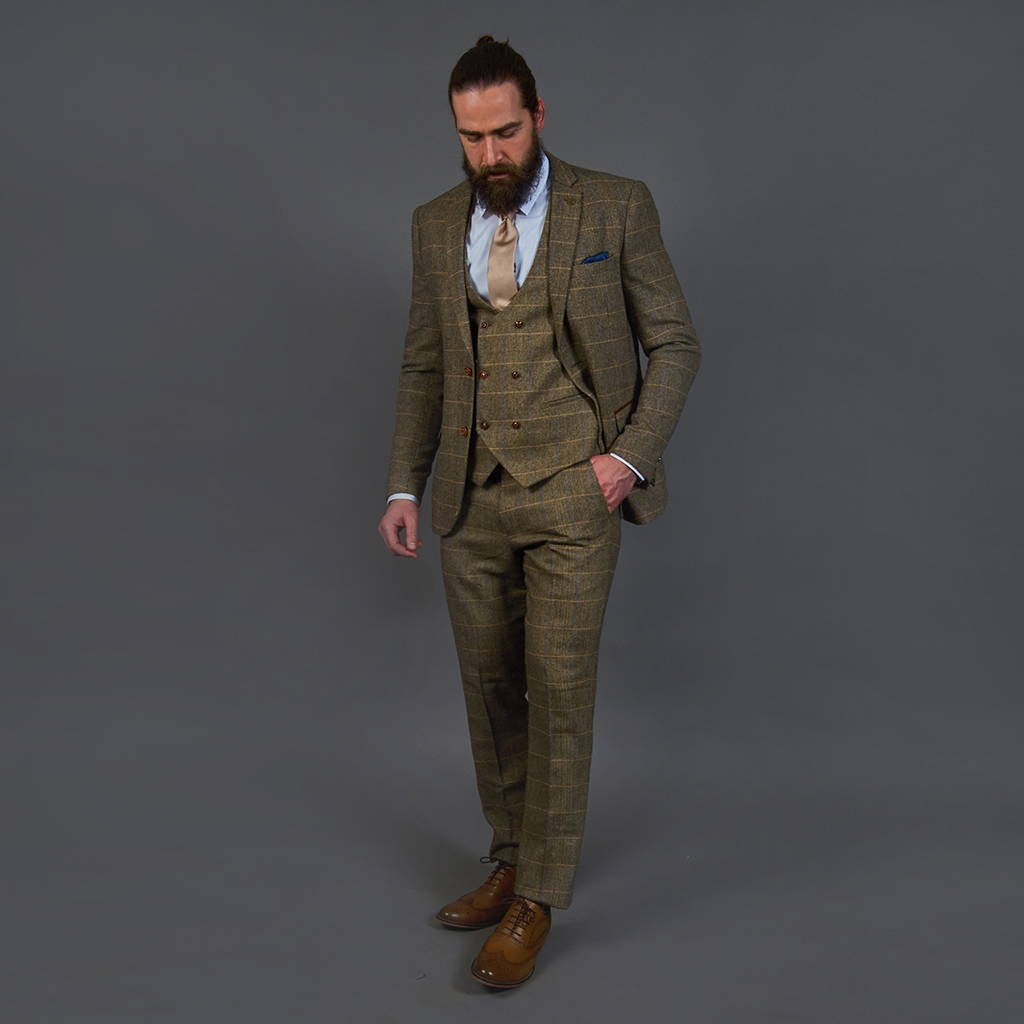 ---
This country-classic suit is great no matter what dress code the wedding calls for. Whether it's a manor-house wedding, a barn wedding or a church wedding, the Ted Tweed Herringbone check suit conveys complete class that will fit anywhere. With suede trim pockets, double breasted waistcoat and an incredibly unique colour combination, this suit radiates gentry style.
---
---
And there's plenty more where that came from, when you visit us, you'll be spoilt for choice. But don't worry, we'll be there to help you narrow it down and get the wedding look you've always dreamt. Book an appointment today at either our boutique shop or our studio for large parties, both just a short distance from Newcastle. We're looking forward to greeting you with a cold one!
---