---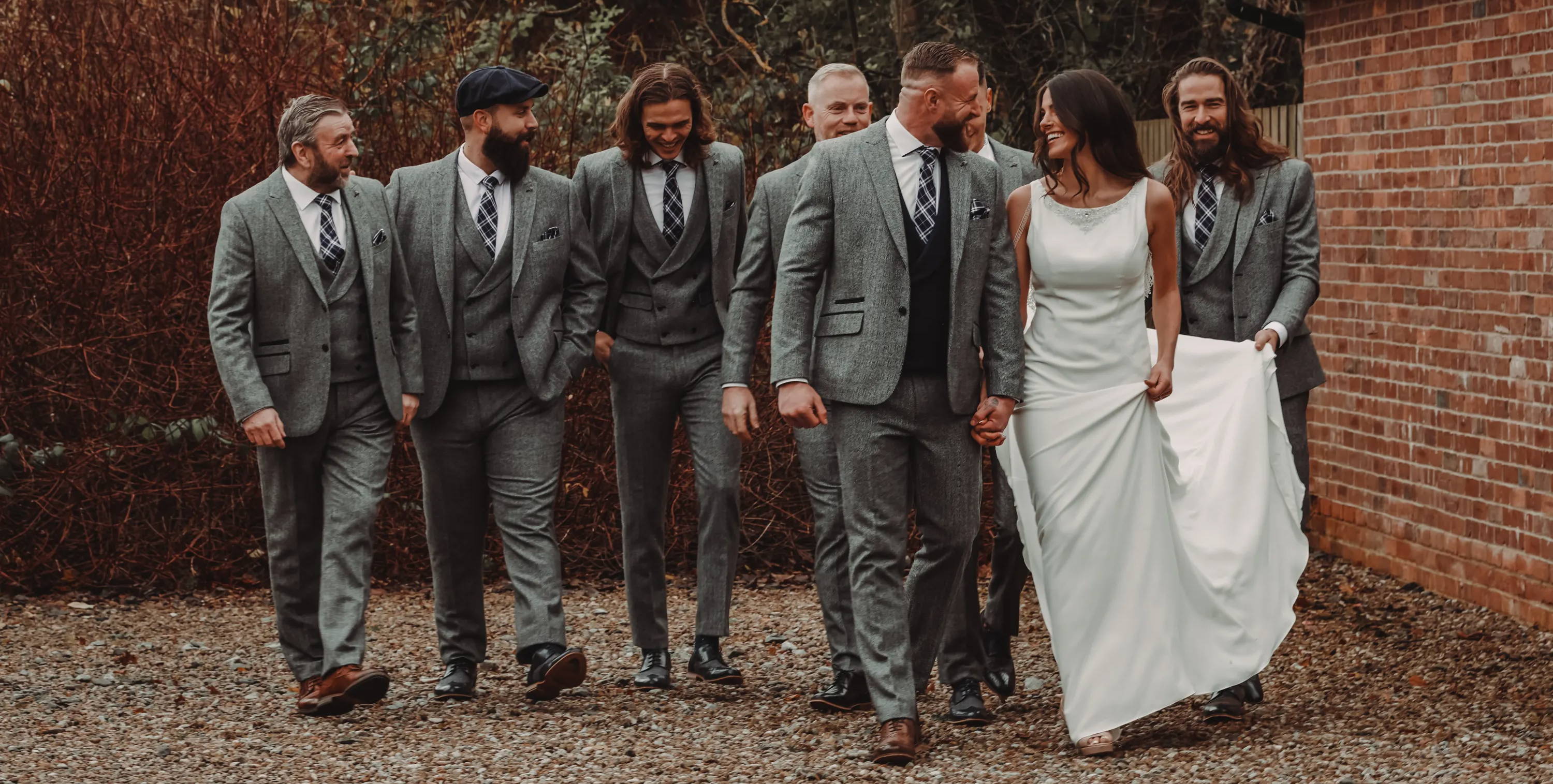 What To Wear

to

 

an

Autumn Wedding 2021
---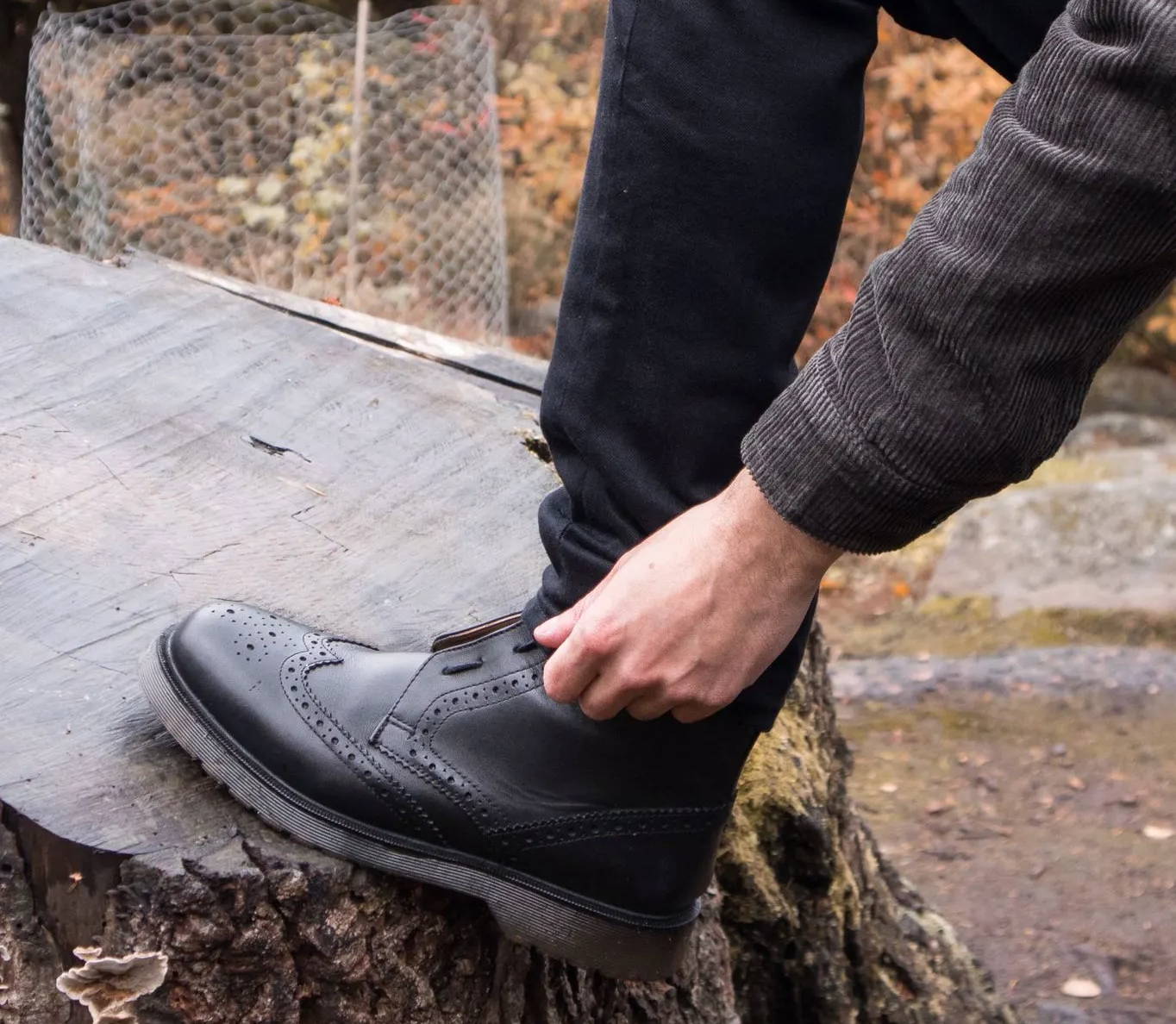 When it comes to picking out an Autumn wedding suit

it's

important to pay attention to detail.

What is the theme? Do I want to stand out? Is it cold? Are all questions you should be asking yourself when styling for your seasonal event. Whether you

can't

decide what colour to wear, or just

don't

know whether to wrap up, the MD team is here to help.

 
---
The Colour:
The world of men's clothing can be daunting when picking out the perfect colour way. One thing to consider is that black can be paired with almost anything, to keep the look grounded and add a sense of much-needed simplicity. But what should your main colour be? When choosing what colour to wear to an autumn wedding, we recommend sticking with some warm colours, maybe try mixing a tan check waistcoat with a navy blazer, trousers and black button-down shirt for a stylish assortment of formal and casualwear. If you're looking to be fully suited and booted and like to keep things more traditional, you could go with a mix-and-match 3-piece suit, try a navy tweed style blazer, grey and navy waistcoat and tan brogues, for an interesting but sleek combo. Or if it's a more out-there look you're going for, you could try a navy suit with a tan check waistcoat and burgundy tie for a simple triple colour way that'll have heads turning at any autumnal event. 
---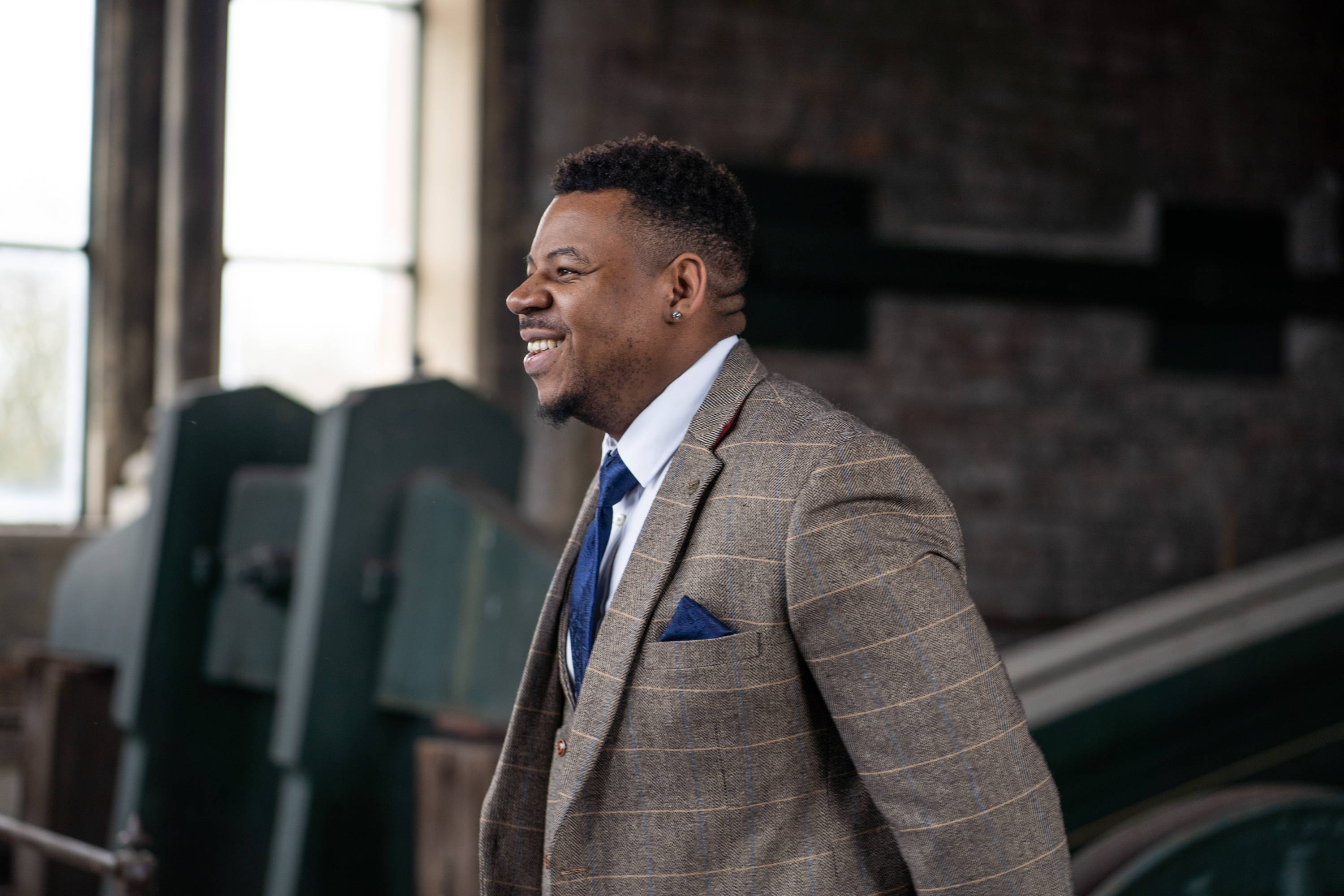 The Pattern:
The pattern can make or break your look, whether you like to keep it plain or you're a fan of the check, it's a tough decision. You could go for a simple plain pattern, possibly a navy 3 piece, now just because it's plain doesn't mean it has to be boring, why not pair it with a black button-down shirt and no waistcoat for a picture-perfect autumnal look. If plain isn't quite your style, don't hesitate to break out the checks. We recommend a red and navy check blazer and trousers, green and navy check waistcoat, white shirt with a navy trimming, burgundy tie for a complicated look that goes together like bread and butter. However, the possibilities don't stop there, try mixing the two. Pair navy trousers and blazer with a grey and navy check waistcoat and a white button-down shirt for the pattern-mixing look of the century. 
---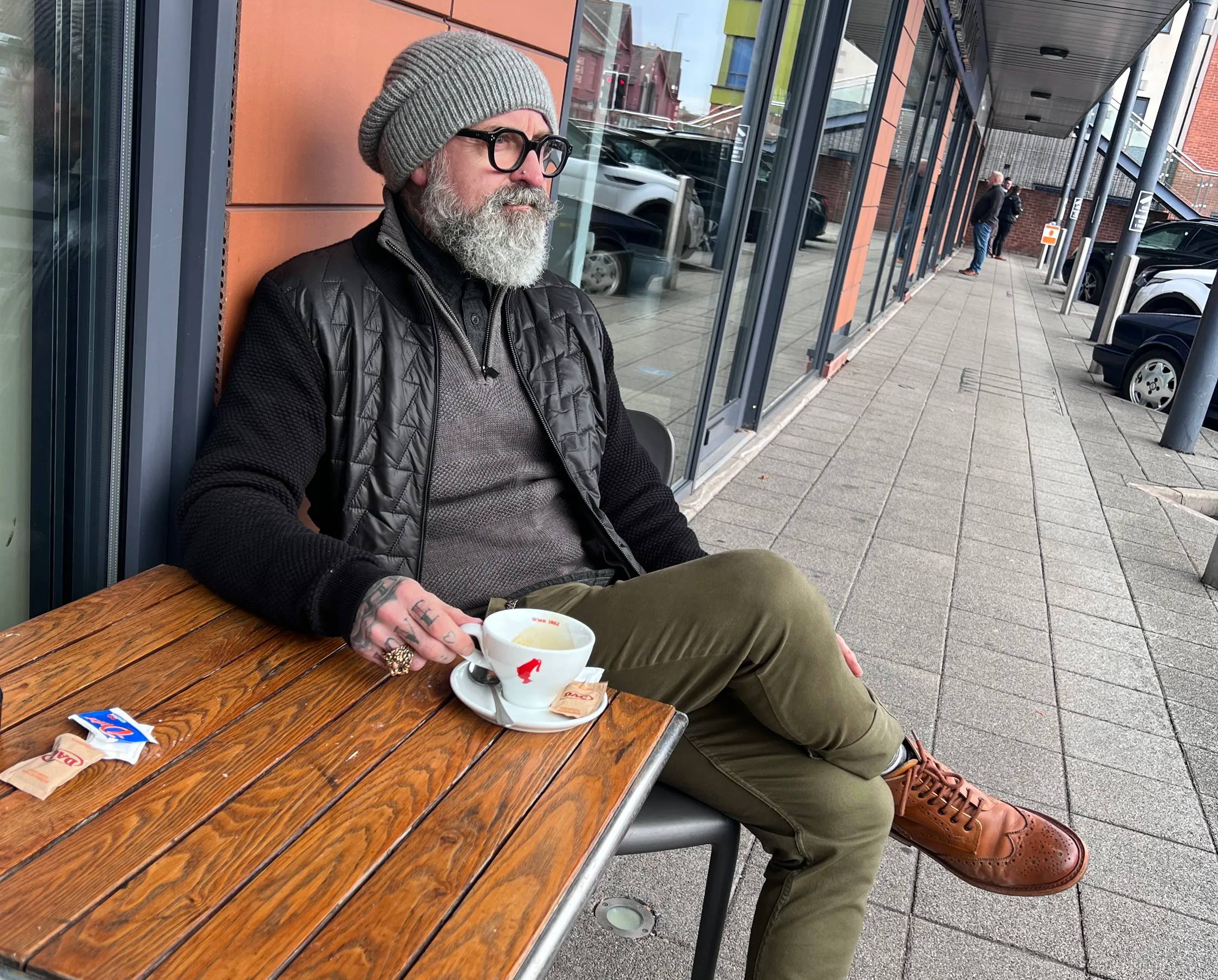 Should I Wrap Up?
Wrapping up for a wedding completely relies on the weather and the venue, however, the choice is there. If it's chucking it down, or if it's just a bit nippy, you can't go wrong with a nice overcoat. We recommend pairing a dark navy waistcoat and a grey and navy overcoat for a familiar feel. However, if that isn't your style, you could try out a nice scarf, for those colder days. Why not pair a green check suit with a tan check waistcoat, black tartan scarf and green check flat cap, for a traditional country outfit?
---
---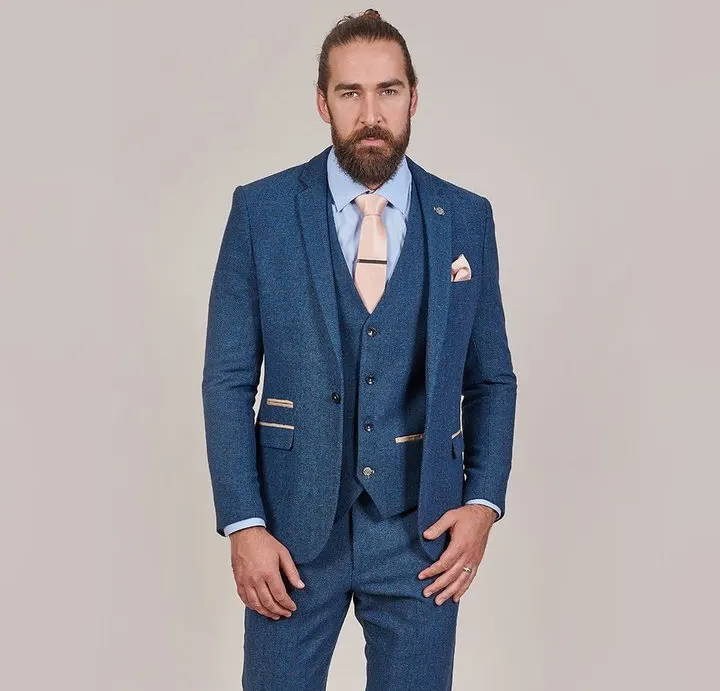 Marc Darcy Dion
Blue tweed
The Marc Darcy Dion suit is an ideal base for anyone looking to build on their formal wardrobe. The possibilities are endless with this versatile icon. If you're wanting a standout outfit that'll have heads turning as you go by, then look no further than pairing this beautiful piece with a tan check waistcoat and burgundy tie and pocket square for the ultimate wedding look. 
---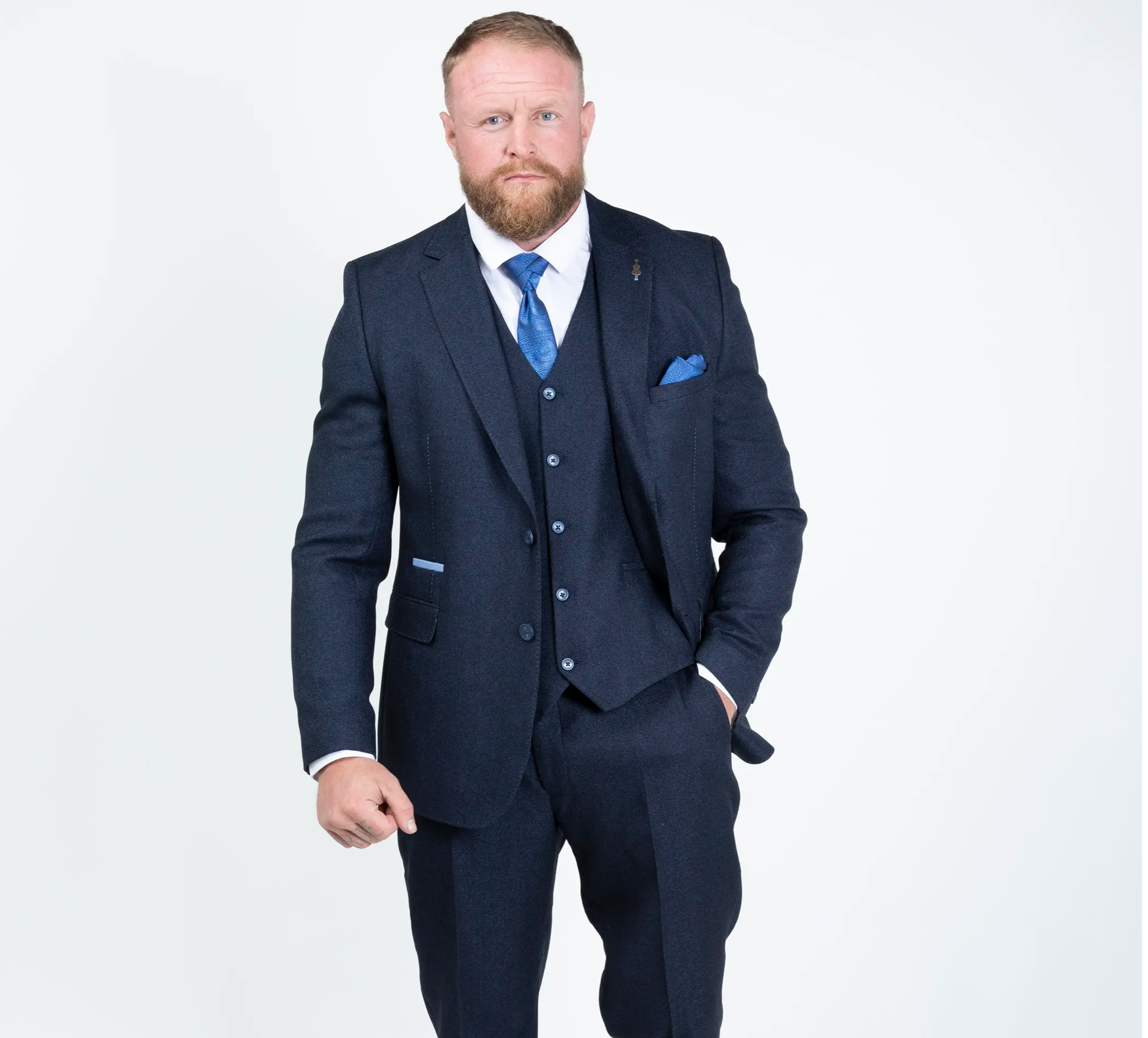 Fratelli Navy with Contrast Detail
This beautiful navy suit comes armed with a seamless contrast detail along the inside lining. Aside from its versatile colour pallet, the light blue contrasting pocket flaps make for even more pairing options with this fresh but familiar staple. If you're looking for something more than a 3-piece suit to show off your style, why not try pairing the blazer with a contrasting blue waistcoat, trousers and tan brogues. 
---
Autumn Wedding Accessories
Just as important as the suit are the accessories you wear with them and there are plenty of options that are perfect to pair with an autumn wedding suit. From burnt orange paisley ties to steampunk bronze pocket watches, there's plenty to choose from - the difficult part will be knowing which one to go for!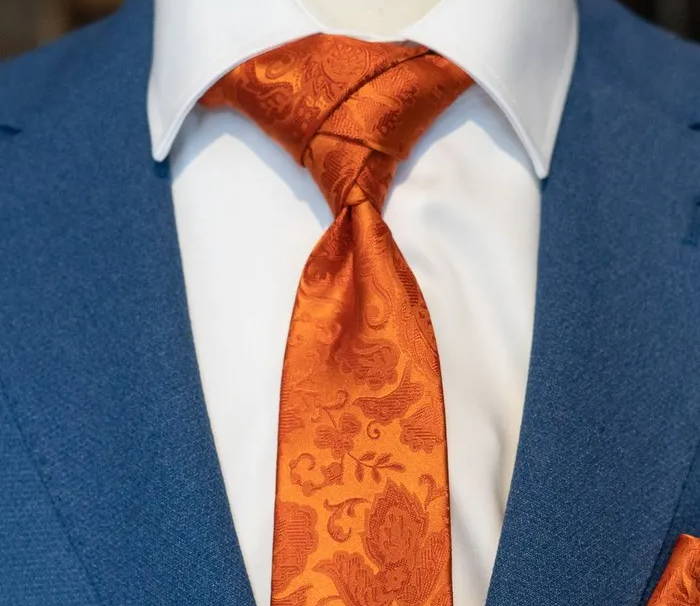 Knightsbridge Neckwear Orange Floral Tie & Pocket Square
If you're a bit stuck on what to pair with your nice new suit, you can't go wrong with bright orange floral pattern for an exciting autumn wedding. The iconic floral pattern is versatile and symbolic to the autumn season. You could try pairing these items with your crisp new Marc Darcy Dion suit for a beautiful contrasting relationship between the bright orange and navy. 
---
Knightsbridge Neckwear Navy Paisley Tie & Pocket Square
A fresh yet familiar feel with this set. The navy and paisley pattern is perfect for those wanting to add some extra flair to that 3-piece. Why not try pairing this with a Marc Darcy Scott Grey 3-piece suit for a unique but grounded feel. 
---
Do I Even Need to Wear a Suit?
When comes to picking out the perfect wedding look, the question lies on what style to go with, should you go suited and booted, or just keep it casual. The first thing to consider is what theme is the wedding, is it a laid back, casual wedding? Or is it a formal, traditional wedding? If it's a more laid-back venue, you could go with a casual look, why not try a navy raincoat, tan cord jacket, white t-shirt and navy chinos for an eye-catching casual look that keeps it simple and smart. However, if a casual style isn't a possibility, a suit might be necessary. Nevertheless, if a 3-piece suit isn't quite your style, why not go for a smart casual mix. We recommend a smart waistcoat, maybe a tan check? Paired with some dark wash denim jeans, a white tailored fit shirt, and tan brogues, and if it's a chilly autumn day, you could always throw a navy raincoat into the mix. 
And there we have it, the complete 2021 guide to autumn wedding suits. If you use any of these tips in your next look, be sure to send us some snaps, or even swing by and give us a twirl, we'd love to see your creation.